REVIEW & RANGE REPORT – BAIKAL MP-442
GM this pistol is the sporting and training version of Makarov PM. Makarov has been thoroughly reviewed by our member KBW here:
viewtopic.php?f=40&t=116
But there are minor changes in 442 which need a little review.
As stated earlier its a sporting version of venerable Makarov. All the design features are same barring few differences. It uses
double stack magazines
which enhances its rounds capacity to
12+1
. It results in
beefier grips
which compromises on its conceal-ability. Moreover,
mag release catch has been placed near the trigger guard,
just like most other handguns whereas Makarov PM had the catch located at the base of the grip and it required lot of practice to release the mag with speed from that position. This is a big advantage in MP442.
Beefier Grip compared to a Makarov (Adds 3.5mm to girth)
Notice the Mag release button below the slide release lever

BASIC SPECS
Model: MP 442
Manufacturer: Baikal
Caliber: 9x18 mm Makarov
Dimensions: 165x127x34 mm
Barrel: 93.5 mm
Weight(unloaded): 780 grams
Capacity: 12 rounds.
Slide: Forged Steel
Frame: Steel
Sights: Blade front and notched rear sight. Fixed.
Sight Radius: 137mm
Finish: Blue
Packing:
Baikal MP442 comes in a plastic box. Its quality is not up to the mark but its much better than a cardboard box. It comes with a manual, spare mag and a cleaning rod.
Finish, Looks and Manufacturing Quality:
442 is a nice looking small size handgun. Its bluing looks good for the price. It is a very simple design, as simple as you can get. Many of its parts perform more than job which means fewer parts.
The finish is quite good though not as good as other US / European weapons. The quality of manufacturing is very good and all parts are manufactured of high quality steel and one can straightaway make out that this gun has been manufactured to last a long time. The finish on internal parts is somewhat crude and one finds tooling marks and few rough edges here and there.
Slide, Frame and Grip:
Like most other handguns, 442 slide does not house its barrel and recoil mechanism. It only has the firing mechanism, feeding and ejection mechanisms. The firing pin is free floating type and does not have a firing pin spring / block. The slide is made of forged steel and is nicely finished from outside. From inside, it's not as nicely finished as most of the European or American guns.
The frame is made of steel and is solidly constructed. In addition to trigger mechanism, it also houses a fixed barrel and the recoil spring which mounts the barrel. It also houses a double stack magazine.
The grips are made of plastic. Grip fits quite well into the hands. I find it to be too thick for a true Conceal Carry gun but most would be able to conceal carry it easily.
Action and Barrel:
It is a blow back operated frame-fixed barrel pistol. The barrel is fixed into the frame and is very well chrome lined from inside. Due to its fixed nature and high quality manufacturing, its barrels are capable of achieving high levels of accuracy, though the size of barrel is just 93 mm. 442 many a times fires more accurately than other handguns with much longer barrels. The feed ramp is nicely made ensuring proper feeding every time.
Trigger Mechanism:
442 has a very crisp trigger which weighs between 3.5 – 5 lbs. The trigger breaks very even and has no extra play. The trigger guard, other than housing the trigger, also acts as a take down lever and assists in extremely quick field stripping.
Recoil Mechanism:
Being a fixed barrel pistol, 442 has no recoil guide rod and the recoil spring is mounted on the barrel. 442 has very manageable recoil which makes the placing of second shot very accurate and convenient. In fact it's a pleasure shooting double taps with a 442 and every time, this little handgun surprises the shooter with its remarkable accuracy.

Sights:
442 comes with fixed front and adjustable for windage rear sights. They are no match the sights of Glock 26 or PT145 and similar modern handguns. Its not very easy to acquire targets with it and they would be of no help in low light conditions.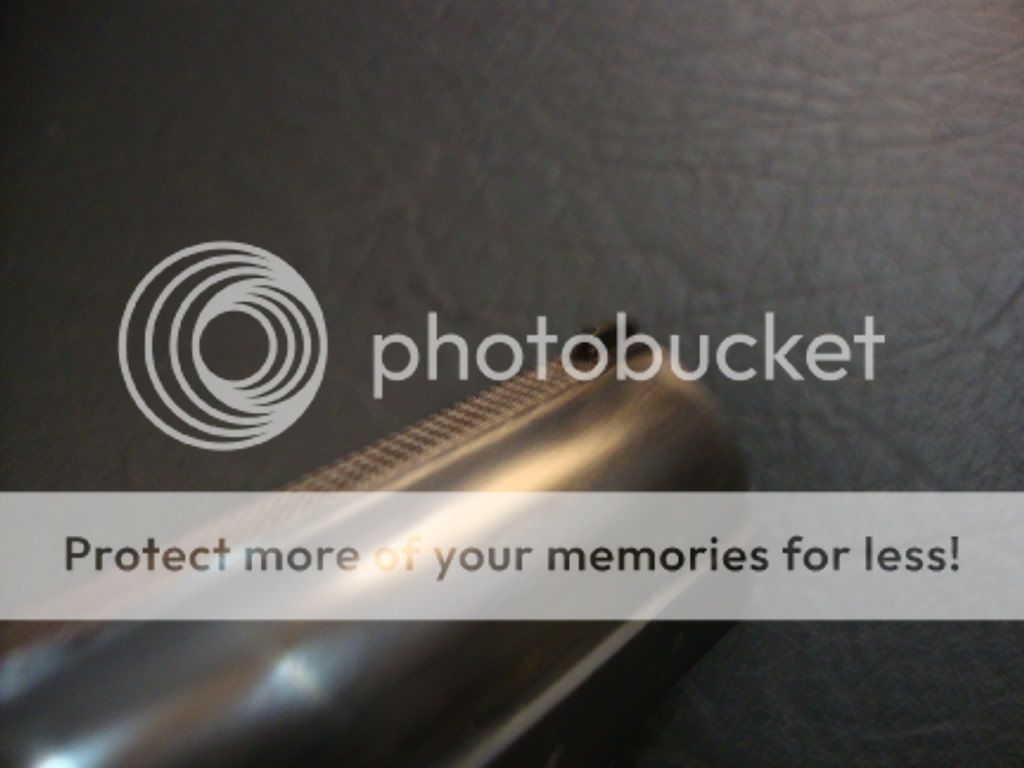 Magazine:
442 has double stack 12 round magazine. The magazine is nicely manufactured and very durable but looses finish rapidly during use. Initially its a pain to load these magazines but they loosen up quickly.
Safety Mechanism:
It has a slide mounted safety that blocks the trigger, hammer and firing pin. Free floating firing pin has been attributed to cause accidents if a 442 is dropped on its muzzle end.

Accuracy:
For its size, it is a very accurate handgun. Its low recoil makes placement of second shot very accurate and easy. I achieve better results with my 442 as compared to many large size handguns. Fixed and high quality barrel along with a very nice trigger assist in achieving very good results though poor quality sights are always a retarding factor, specially during speed shooting. Reviewed specimen is not zeroed and shoots to the left. Little sight adjustment would take care of that.
Handgun:...............MP-442
Ammo:....................Barnaul
Distance:................10 M
Technique:..............Deliberate Fire. Standing, with both hands.
Time:.......................1200 hrs
Target:...................25 M Pistol precision target
It was supposed to be all shots with POA at Bulls eye but unintentionally changed POA in some shots to score some Bulls eye.
Handgun:...............MP-442
Ammo:....................Barnaul
Distance:................15 M
Technique:..............Deliberate Fire. Standing, with both hands.
Time:.......................1200 hrs
Target:...................25 M Pistol precision target
With corrected POA. Rectangle right of bulls eye.
137/150 91.33%
Handgun:...............MP-442
Ammo:....................Barnaul
Distance:................25 M
Technique:..............Deliberate Fire. Standing, with both hands.
Time:.......................1200 hrs
Target:...................25 M Pistol precision target
POA red triangle. 13 shots fired.
Reliability:
I have not experienced any issues in 200 rounds fired till now. Its pedigree prevents me from expecting any problems in this area. I am confident that it'll live up to hype of its predecessor.
Maintenance:
It is one of the easiest weapons in the world when it comes to field stripping and maintenance. An experienced handler can field strip and reassemble a Mak in just 10 seconds and sometimes, even lesser. There is nothing technical about its cleaning and maintenance and those who spend time in the field with their handguns well understand that this is a great attribute that a any weapon can possess. Its simple construction and lesser number of parts makes it a very easy weapon to maintain.
Suitability for the Purpose:
It is basically a CC handgun and a very very suitable one for that purpose. It is small, comparatively sleek, ridiculously simple, very robust, very accurate and highly reliable. What else one needs from a CC weapon. Though 9x18 Makarov ammo is a little on the weaker side but its ability to deliver an accurate and quick second shot amply compensates for this weakness; again a great attribute during SD. In any case, 9x18 Makarov is a much more potent ammo than 9x18 Short or .32 ACP or .25 ACP or .22 LR, other calibers which can compete or better a 442 in low recoil and high second shot capability.
Price and Value for Money
Its available from 43 to 55 thousand rupees in different cities of Pakistan and ammo is from 60 to 70 RS each. Its the lowest cost true conceal carry weapon which is available new in box in Pakistan. Considering its accuracy, reliability and size, IMO it carries a lot of value for the money. A must buy in my opinion.
User Manual
http://www.makarov.ch/documents/Pistol_ ... Manual.pdf