Walther LP400 Aluminum, Target Air Pistol > Review & Range Report
Carl Walther of Germany is well known for manufacturing top of the line sporting firearms and air rifles/pistols. LP400 is the top Walther model in target air pistol category. Walther LP 400 is a complete match air pistol with many unique and latest functions and has been specifically designed for Olympic / ISSF 10 M Air Pistol Match.
The weight, center of gravity, grip shape, grip size, grip angle and trigger position have been perfectly matched up.Walther has taken grip technology much further. LP 400 has been specially desinged for smaller hands and with its light weight it is ideal for younger and female shooters. Its every part has been a marvel of precision engineering.
Walther LP400 is an expensive air pistol and costs around US $ 1600. With extra accessories like spare cylinder, air pump, spare trigger etc, the price goes to around US $ 2200.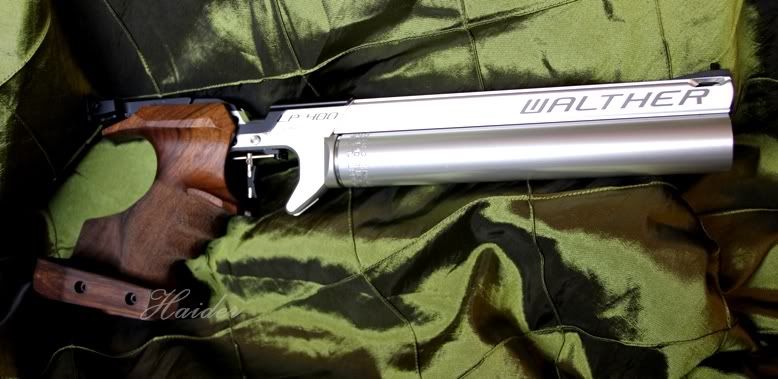 Technical Data
System.......................... Compressed air system 200 bar
Caliber........................... 4.5 mm (.177')
Cylinder......................... Aluminum cylinder with pressure gauge
Capacity........................ 180 shots / cylinder
Maximum energy.............. 7.5 Joules
Grip............................... MEMORY 3D-Waltnut grip
Trigger.......................... Fully adjustable two-stage and dry-firing trigger
Trigger weight................ 500 g
Sights........................... Rear sight continuously adjustable, turnable front
Sight Radius................... 340-400 mm, adjustable by changing the position of rear sights.
Barrel........................... Aluminium barrel jacket
Barrel length.................. 227 mm
Dimensions.................... 410/135/50 (L/H/W mm)
Weight......................... 950 g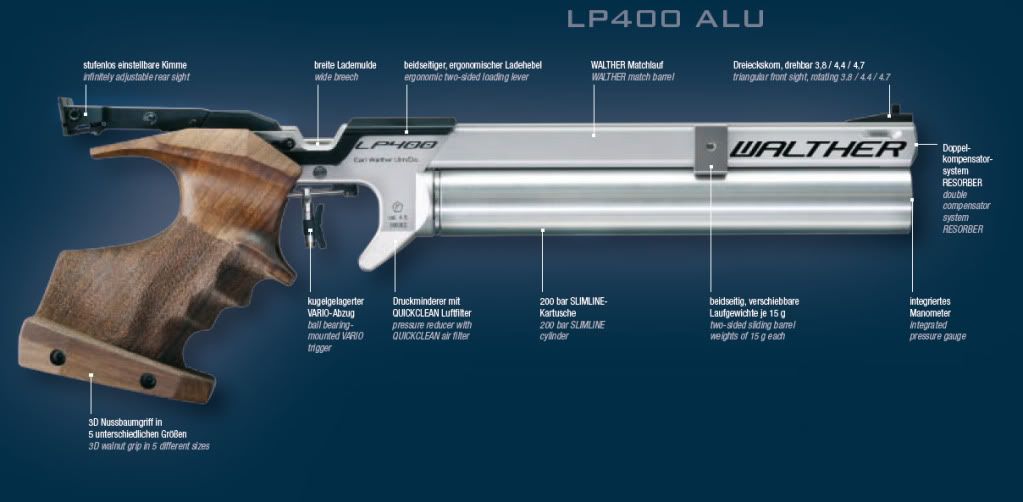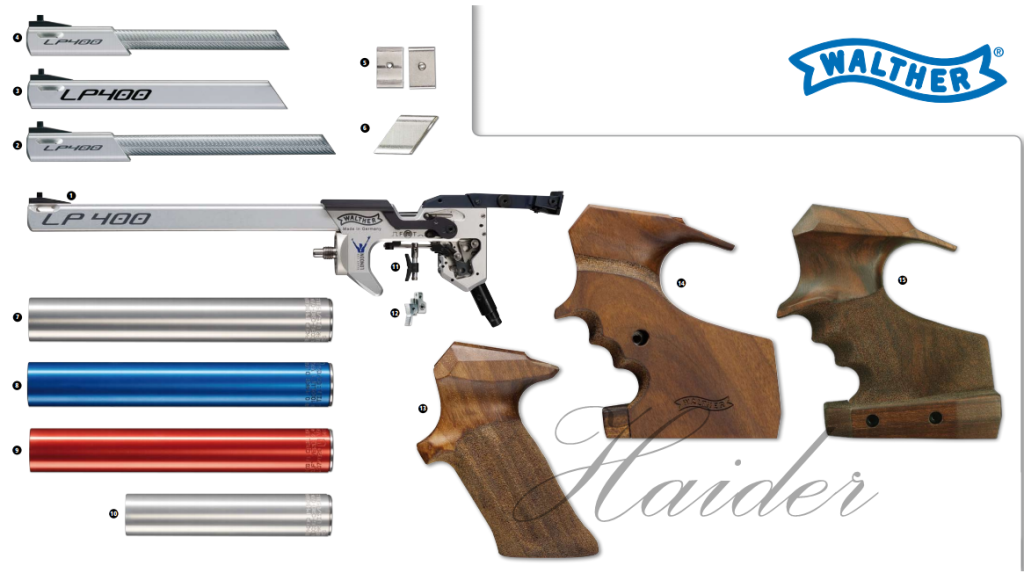 Achievements
The Walther LP 400 was the winner of the red
dot
design award 2011.
Vladimir Isakov
scored 684.3 (584 in qualifying + 100.3 out of 100 in finals) and was the
Bronze

Medal Winner at Athens 2004 Olympics.
Even in 2012 London Olympics, we can see many shooter using Walthe LP400.
Accessories
Walther LP400 comes in a plastic case which includes...
- Walther LP400 pistol
- SLIMLINE compact Aluminium air cylinder 200 bar (silver)
- Filling Adapter 200 bar
- Two Sliding barrel weight of 15 g each
- Three screw drivers and two L keys of different sizes. Every screw in the pistol can be opened with these.
- A box of quick cleaning pallets containing 100 pallets
- Test target, signed and stamped.
- Warranty Card
- User Manual
In addition to this, extra accessories like sprare cylinder, air pum, spare grip, spare trigger and sights etc are avaialble on line.
Special Features
Here are few special feature that LP400 has got.
MICRO-Compressed-Air-System (200 bar)

EQUALIZER magnetic absorber system

Pressure reducer with QUICKCLEAN air filter

RESORBER compensator system (two-phase air dissipation)

ECO valve technology:
-Minimal opening pulse
-Reduced shot development time
3D grip adjustment with MEMORY effect

Infinitely adjustable rear sight width and depth, turnable front sight

Ball bearing-mounted VARIO trigger with maximum setting possibilities

System
LP400 uses
Micro
Compressed Air-System technology.
Cylinder
It has
Slimline
aluminium cylinder with pressure gauge which has a capacity of 180 shots/cylinder at an energy of 7.5 joules. The
Slimline
aluminium cylinder has an
Equalizer magnet absorber system
which reduces the air consumption. That means around 180 shots are still possible even with a reduced 200 bar cylinder capacity.It has a
QuickClean
air filter system which cleans the air and provides the system with lasting protection from fouling. It also has a
Resorber Compensator system
which dissipates the gas in two ways:
Phase 1:
The compressed air
is diverted into the barrel jacket.
Phase 2:
The remaining air is dissipated to
the outside.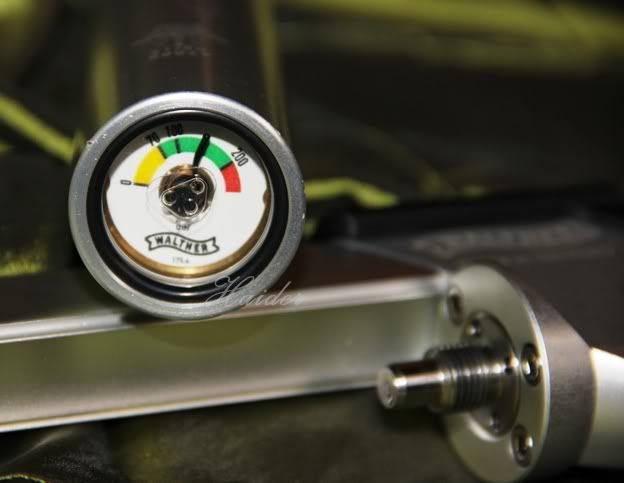 The cylinder comes with a signed warranty card and if anything happens to the cylinder within 10 years, it will be replaced by Carl Walther.
Grips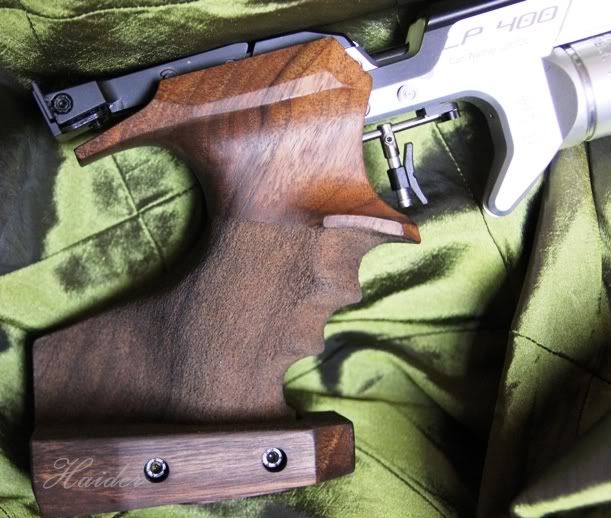 Walther LP400 has a fully adjustable walnut grips with finger curves and hand rest. Grips are available in medium and large sizes and also for right and left hand. Spare grips cost around 250 $.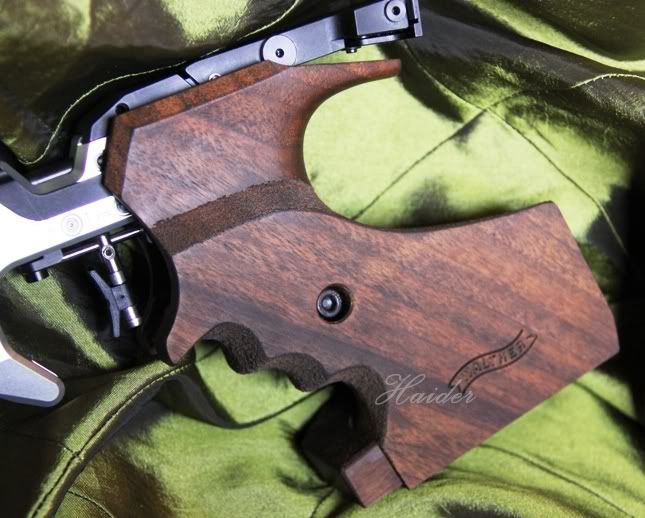 Its grip has a
3D
adjustment which allows individualized setting and grip can be adjusted in all three dimensions. It also has a
Memory effect system
which allows the personalized setting to be preserved even if the grip is taken apart.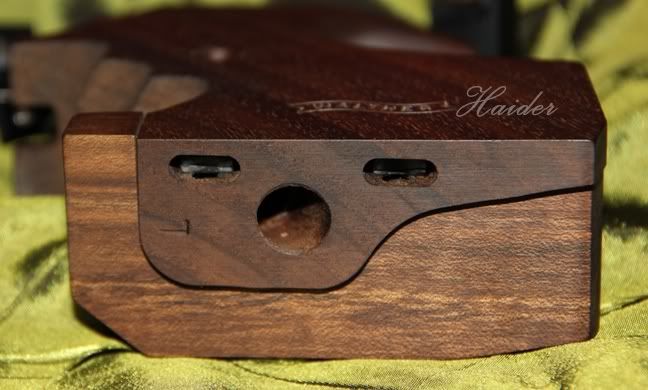 I have adjusted the grips as per my hand size and now, the gun fits perfectly in my hand. I can keep the gun well balanced while shooting with single hand.
Sights
LP400 has a triangle shaped turn-able front sight having three sides of 3.8,4.4 and 4.7 mm wide. Shooter can adjust the front sight tip width as per his liking.
Its front and rear sights can be slid to any position in the longitudinal direction. This allows a shooter to adjust the sighting radius from 340-400 mm, depending on the liking of the shooter.
Its flat and variable ­length line of sight reduces the risk of aiming errors. Its infinitely adjustable rear sight can be individually set to any size. Even the size of the rear sight notch is fully adjustable and can be increased / decresed as per shooter's choice. The rear view of the sight has no edges to distract the eye while aiming.
The adjustment clicks are very precise. Each click of elevation and windage secrews of rear sight moves the POA by one mm at a distance of 10 M.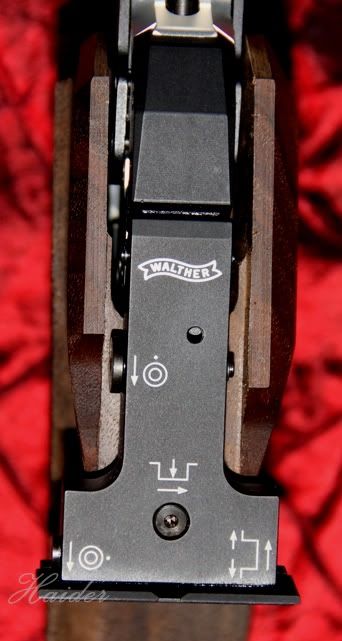 Trigger
LP 400 comes with a two stage trigger. The Trigger is set at the factory to the optimal setting as per ISSF rules. However, it has a wide range of adjustment possibilities. It works on two modes,
firing mode
and
training mode
. In dry firing (training) mode the air and pellet (if inserted) is not released, whereas a
tick
sound is heard when the trigger is pressed. Trigger weight remain same in dry firing mode as in firing mode.
The
ECO valve technology
in it allows minimum opening pulse which prevents shaking. This technology has reduced shot development time by the flow ­optimized air supply, hence fewer errors are made.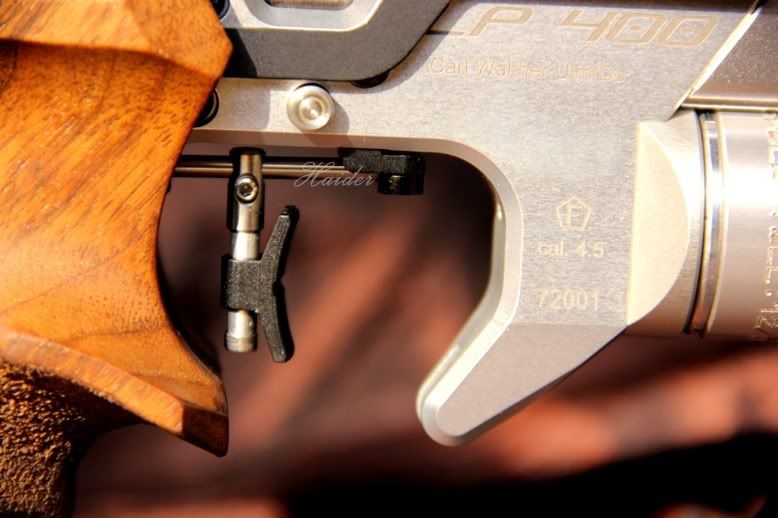 Perfomance
A Test target shot by this gun.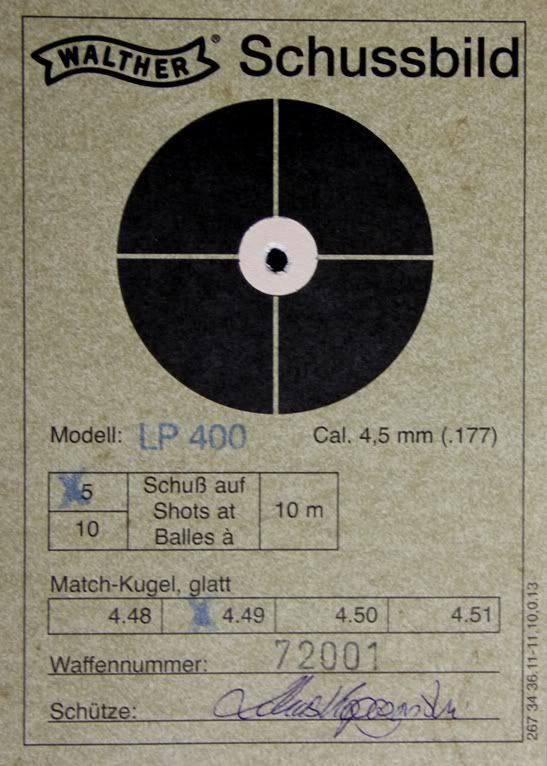 Schussbild
= Shot image
waffennummer
= weapon-number
schütze
= Scorer/Shooter
The test target has been shot from machine rest from 10 M and all five pallets have passed through the same hole. This shows that pistol is extremely accurate.
These targets have been shot from rest with single hand to check the best suited ammo for this pistol. We used differet brand pallets as shown in the front of pic below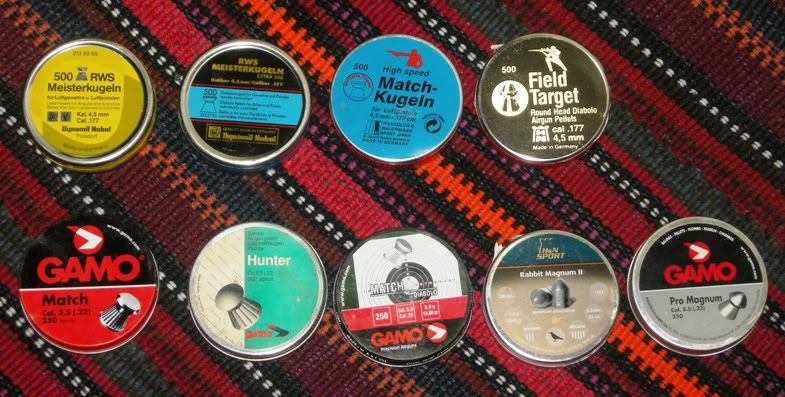 These were the results...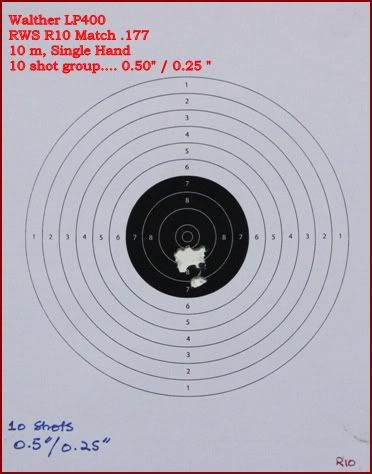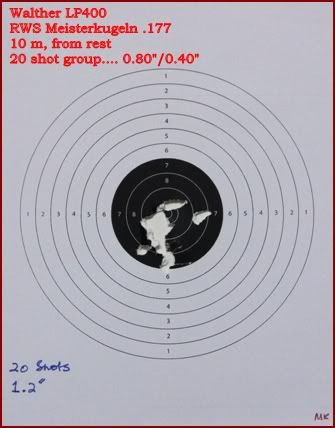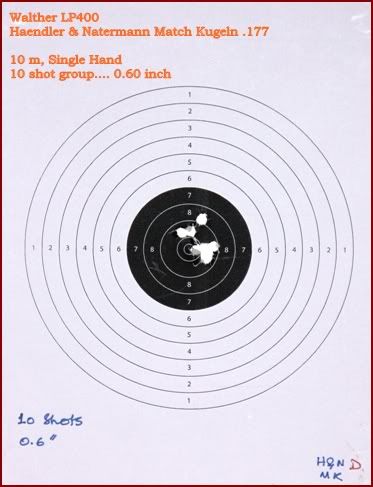 As per these test and also as per my experience during range sessions, RWS R10 match are the best pellets for this air pistol. You would have also seen that most of the shooters in London Olympics were shooting RWS R10 Match pallets.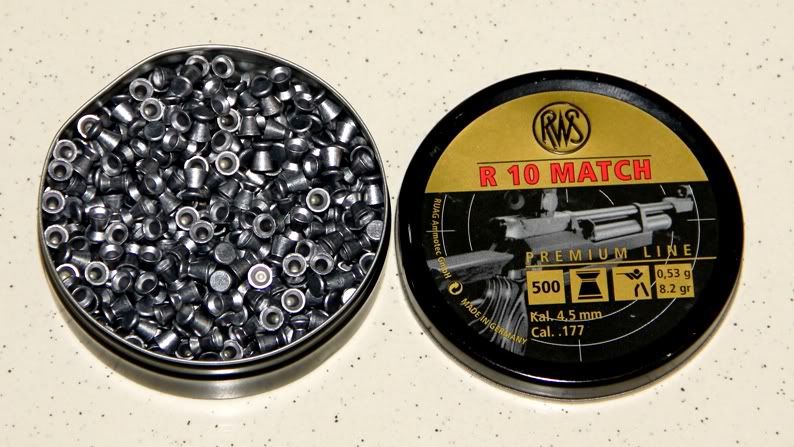 I am still trying to improve my shooting with single hand and my standard is so far very poor. These are some of the target shot by me from 10 M with single hand.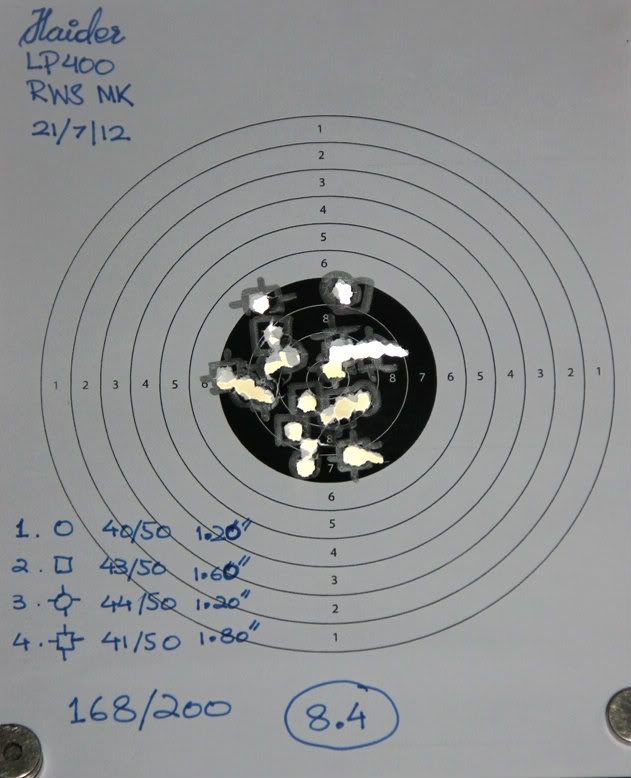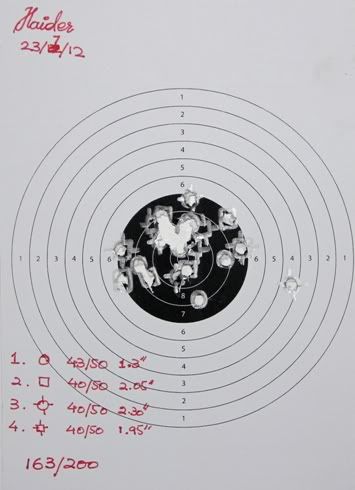 This target was shot by KBW.....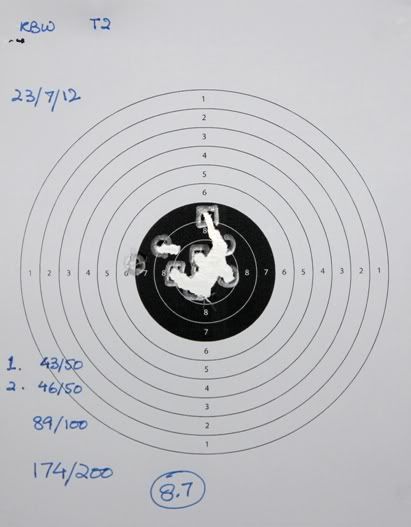 I am still learning how to shoot with this pistol. I hope that with more practice, I will be able to bring my score to 9.2-9.5 per shot which is the requirement to compete at national level.
Other Models/Variants
There are many variants of LP400 which have been manufactured as per shooter's requirements.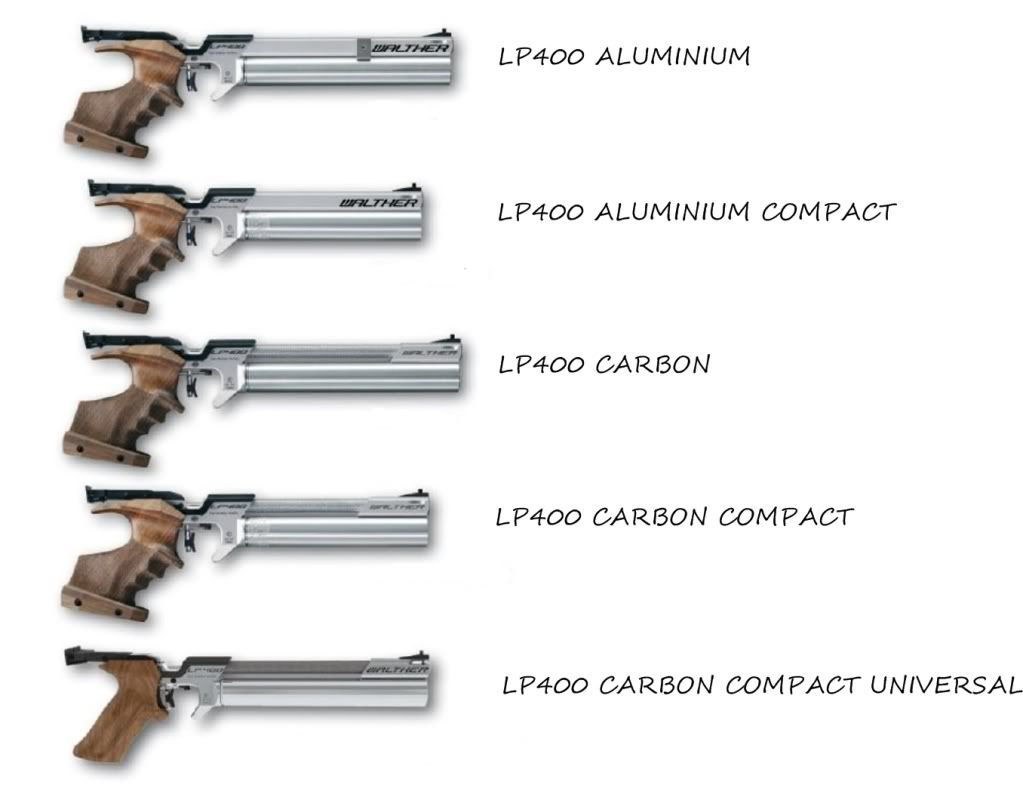 I am very happy with my air pistol and hope to improve my shooting standards. One advantage of air pistol is that I can shoot in my home. I hope with this practice with single hand I will also improve my shooting of .22 LR and 9mm pistols with single hand from 25 M.