REVIEW & RANGE REPORT – RWS DIANA 35
When I was a kid and used to see my elder cousins hunting doves, pigeons etc, I always thought there were two type of guns that can be used for hunting; the "ordinary ones" which some times hit and sometimes dont are called "Air Guns", the "special ones" that down a dove most of the time and are known as "Diana". This belief stayed with me for some time until I learned that Diana also falls in the air rifles category. More than three decades have passed and I can still see some of those "Diana" airguns with sons of my cousins and some of them shoot quite well even after about 35-40 years when I first saw them. Such is the performance and repute of air rifles manufactured by RWS. Simply put, whatever comes with name "Diana" means quality and performance.
Diana 35 is basically a hunting gun which can be used for plinking or casual target shooting. RWS probably no more manufactures Model 35, however, Model 34 which is currently being sold in the market is not much different from Model 35. Both are break barrel medium velocity guns which are ideal for small game hunting and plinking. Are slightly on the heavier side, but still good enough to be carried during a hunting trip. Off course it has the elegance and grandeur of its own, coupled with the pride of carrying a Diana.
BASIC SPECS
• Loudness: 3-Medium
• Weight: 7.50 lbs
• Barrel Length: 19.00"
• Overall Length: 45.00"
• Capacity: 1 pallet
• Cocking Effort: 30 lbs.
• Barrel: Rifled
• Muzzle Velocity: 800 ft/sec
• Front Sight: Post globe
• Rear Sight: Adjustable for windage and elevation
• Sight Radius: 18.5 inches
• Scopeable: 11mm dovetail
• Trigger adj.: Two-stage adjustable
• Apprx. Trigger Pull: 3.30 lbs
• Buttpad: None
• Suggested for: Small game hunting/target practice
• Action: Break barrel
• Powerplant: Spring-piston
• Safety: Automatic
• Length of Pull: 14 inches
Note: Most of the above data pertains of Diana 34, which is the new model of the same airgun and has been taken from Pyramid Air. com
REVIEW
RWS 35 is a break barrel spring piston air rifle. Cocking effort is around 30 lbs which may not be easy to operate by smaller kids. Weight is a little on the heavier side as compared to other guns available in the market like Gamo Shadow etc, however, it is manageable. Heavier weight of RWS 35 does compensate for the recoil which is always a problem in high powdered springers, ruining the scope zeroing and even scope itself.
The quality of craftsmanship and manufacturing is simply outstanding, as is the case with most RWS guns. Whenever I look at my Diana 35, I always wish my other rifles were also finished like that. I vividly recall the looks on SA's face when he saw this airgun for the first time; the kind of looks that we gun enthusiasts are quite familiar with
Do you remember, SA!!
The stocks is montecarlo style walnut with raised cheek rest, elegantly finished with very nice checkering on the pistol grip and forend. Gives a majestic look, making one think that this is how a top rifle should look like. Recoil pad is about 1.25" and fits the shoulder very well. Bluing is very nicely done and has stayed the course so far. Is going to quite a few years without a problem, I know. All parts, as you can see, are precision machined, with no tooling marks or rough edges whatsoever.
RWS has T05 trigger, not the latest in RWS series of triggers but still a very good one.Trigger pull is 3.5 lbs approximately with no creep or over travel. After one gets a good feel of it, it shoots quite consistently thereafter.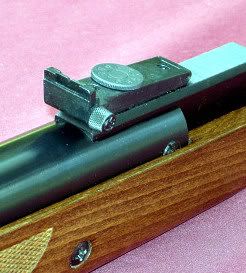 The sights are good. As is the case with all break barrels, both sights are located on the barrel. Front sight is post globe type whereas rear sight is fully adjustable for windage and elevation.
Standard 12mm scope mount is provided on the receiver. I mounted a Hubertus 3-9x32 scope on it and the guns is doing quite well with it. Just to check the gun accuracy and scope performance in low light conditions, I shot a target from 25 M after the sunset. The scope had good light transmission and I could see the bull much brighter with the scope but with naked eye, it was hardly visible. The gun did not shoot that bad in low light and all 20 pallets were within 3", some of them making one big hole........
Diana 35 is quite a safe gun. It has an automatic safety that engages with the breaking of the barrel and blocks the trigger. As you can see, the safety button is placed very conveniently at the end of the receiver and can be easily disengaged by the shooter with the firing hand thumb, while he is aiming.
HUNTING AND RANGE PERFORMANCE:
Diana 35 is not as powerful as Diana 54 Air King or Diana 350 Magnum, however, it is good enough to do the job. At 700-800 ft/sec with different pallets, it is powerful enough to engage small game like doves, pigeons and other such birds up to a distance of 40 M (with scope).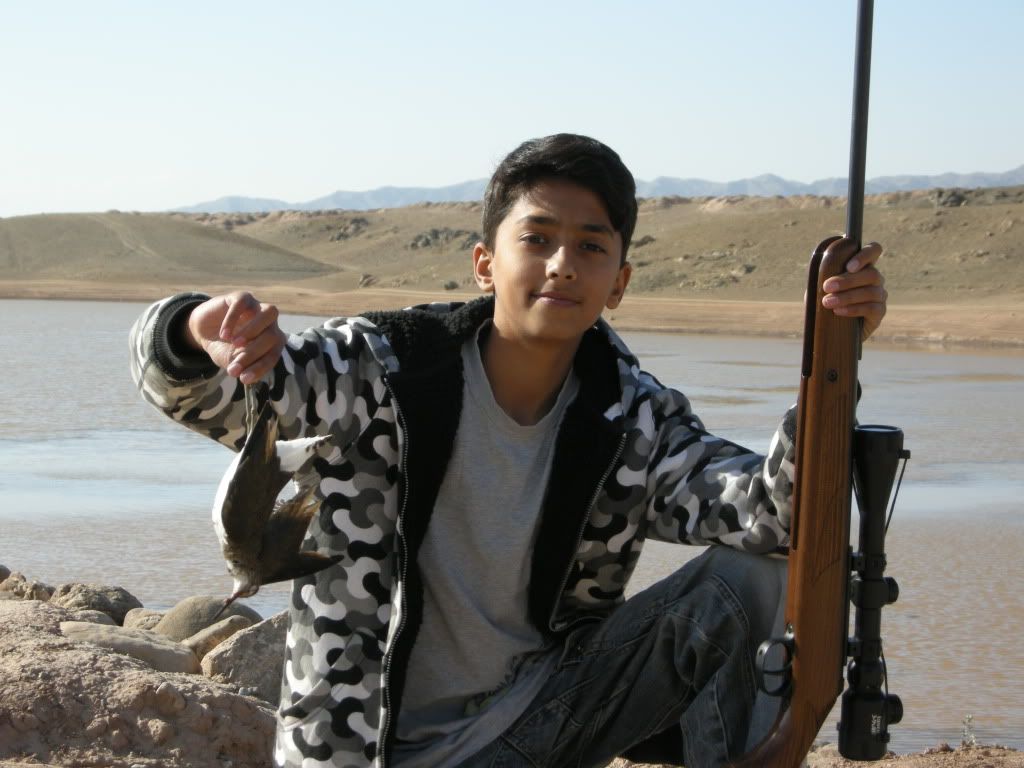 It has been a kid's favourite for hunting doves and other small birds.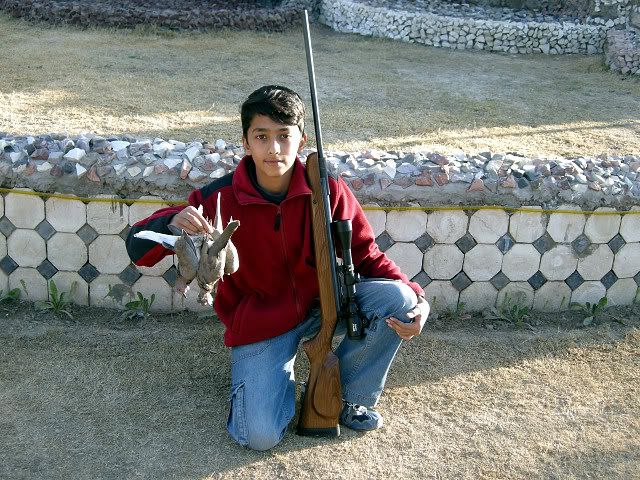 Off course, a gun which shoots well is appropriate for training the kids in the art of stalking and shooting from behind the cover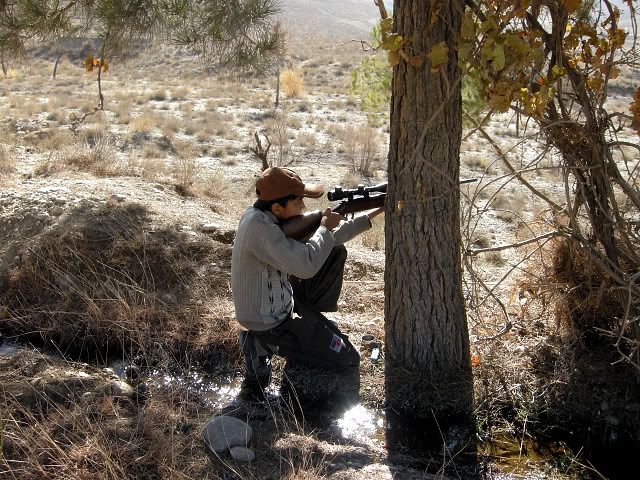 And it has also been kid's favourite gun for plinking and casual target shooting competitions. As you can see, they all look quite serious about it..........
With regards to accuracy, I can safely say that this gun would outshoot many a shooters. If one does his bid well, this gun would keep throwing consistent groups one after the other and will keep doing so for years. Few targets shot with the gun.........
Targets shot from 25 M with a scope. Leaving aside one odd flier, all 20 pallets are within 2" which is quite satisfactory.
A target shot from 30 M with a scope.
Shooting with iron sights from 20 M.
Iron sights, 25 M this time.
BOTTOM LINE:
It's a pleasure to own an RWS. A little on the expensive side, many of these guns would last a life time and fully payback the money spent on them. In air rifles, quality matters and therefore, I would recommend every one to buy a good air gun, once for all. Money saved on cheap airguns is normally wasted. It may be an RWS, a Beeman, a Weihrauch or any such gun but go for a good one if you really want to enjoy airgun shooting. Needless to say, in todays time when the ammo, rifles and rifle ranges cost a lot and have to kept under limits for economic reasons, air rifle is the most appropriate tool to teach rifle shooting basics to the kids (and even to our ownselves), enjoy hunting in the surrounding without creating any alarm and also enjoy casual target shooting matches in your home's lawn. If you have an RWS, it would be a pleasure doing all these things.