PLEASE USE THIS THREAD TO SHARE YOUR TACTICAL / SURVIVAL WATCH COLLECTIONS. POST PICS ALONG WITH YOUR USER FEEDBACK/REVIEW:
-----------------------------------------------------------------------
Had been looking for a tough tactical / survival watch since a long time and finally got one few days back.
CASIO PR0TREK PRG 130Y
Model: PRG-130Y
Shipping Weight: 350g
TECHNICAL SPECIFICATIONS
- Case / bezel material: Resin / Stainless steel
- Resin Band
- 200-meter water resistance
- Direction Bezel
- Mineral Glass (Scratch-resistant)
- Electro-luminescent backlight
- Full auto EL light, afterglow
- Solar powered
Digital compass
- Measures and displays direction as one of 16 points
- Measuring range: 0° to 359°
- Measuring unit: 1°
- 20 seconds continuous measurement
- Graphic direction pointer
- Bidirectional calibration and northerly calibration function
- Magnetic declination correction
Altimeter
- Measuring range: -700 to 10,000 m (-2,300 to 32,800 ft.)
- Measuring unit: 5 m (20 ft.)
- Manual memory measurements (up to 24 records, each including altitude, month, date, time)
- High Altitude memory
- Others: Reference altitude setting, Altitude graph
*Changeover between meters (m) and feet (ft)
Barometer
- Display range: 260 to 1,100 hPa (7.65 to 32.45 inHg)
- Display unit: 1 hPa (0.05 inHg)
- Atmospheric pressure graph
- Atmospheric pressure differential graphic
*Changeover between hPa and inHg
Thermometer
- Display range: -10 to 60 °C (14 to 140 °F)
- Display unit: 0.1 °C (0.2 °F)
*Changeover between Celsius (°C) and Fahrenheit (°F)
World time
29 time zones (33 cities), city code display, daylight saving on/off
Moon data
(moon age of the input data, moon phase graph)
Tide graph
(tide level for specific date and time)
1/100-second
stopwatch
Measuring capacity: 23:59'59.99''
Measuring modes: Elapsed time, split time, 1st-2nd place times
Countdown timer
Measuring unit: 1 second
Countdown range: 60 minutes
Starting ranges: Countdown start time (1 to 60 minutes, 1-minutes increments)
Reset time (1 to 5 minutes, 1-minutes increments)
Others: Time up alarm, progress beeper on/off
Daily alarms
5 independent daily alarms
Hourly time signal
Battery level indicator
Power Saving (Display goes blank to save power when the watch is left in the dark.)
Full auto-calendar (to year 2099)
12/24-hour format
Button operation tone on/off
Regular timekeeping: Hour, minute, second, pm, month, date, day
Accuracy: ±20 seconds per month
Approx. battery operating time:
6 months on rechargeable battery (operation period with normal use without
exposure to light after charge)
20 months on rechargeable battery (operation period when stored in total darkness
with the power save function on after full charge)
Size of case/total weight: 56.2 X 50.6 X 13.9 mm/78 g
PACKING
EYE CANDY
(Image from Watch Tanaka)
(Image from Watch Tanaka)
(Image from Watch Tanaka)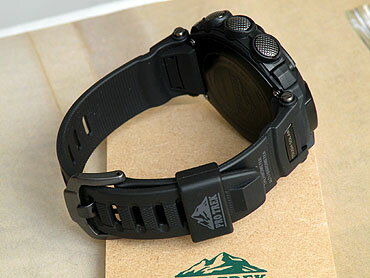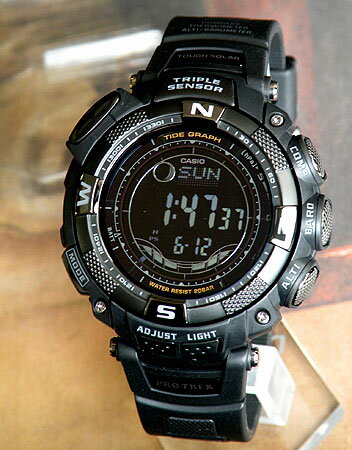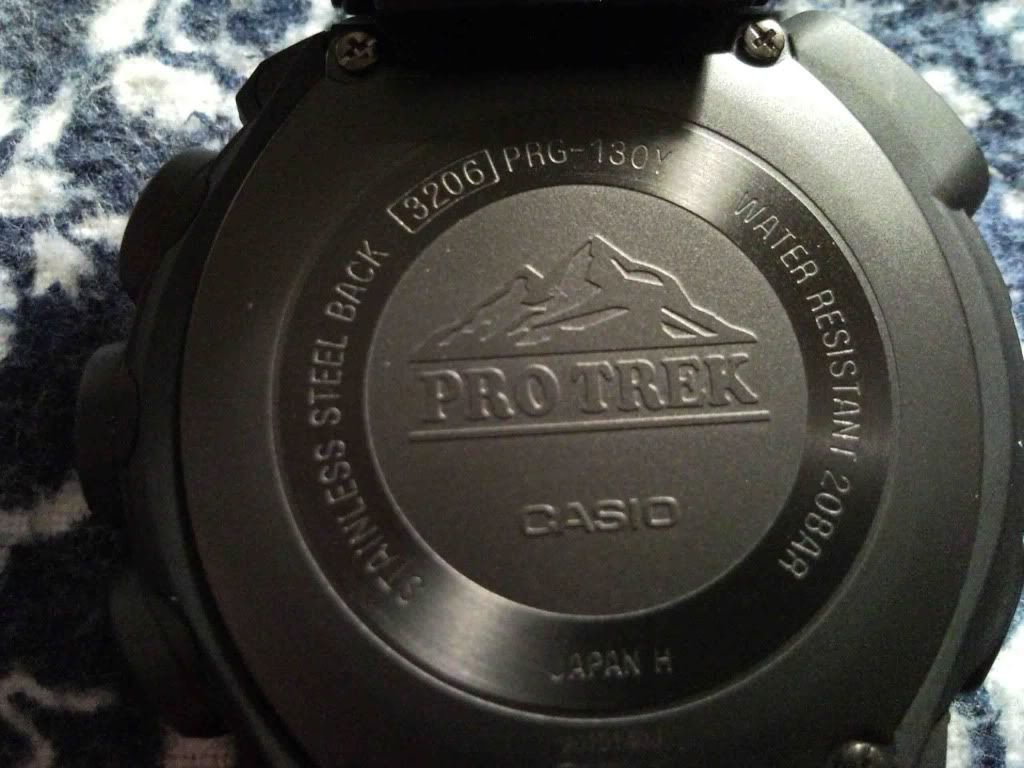 PRICE
PKR 15,000 / USD 176
FIRST IMPRESSIONS
It's BLACK. As Black as I would like it to be.
It has that popular ABC function (Altimeter, Barometer, Compass) which Casio has been refining over the last many years coupled with the handy moon phase and tide modules. I really wanted a stealthy wrist watch and it's reverse LCD display serves this purpose well. Although not as clear as normal LCD screens, but still it is quite clear and readable. The backlight is excellent (refer image above). The watch has a rugged case and the whole built seems and feels solid. The quality of it's resin band is head and shoulders above other Casio watches that I've seen and used.
The only negative that I've been able to come up with is with the front two buttons, ADJUST and LIGHT which are sometimes hard to press, given their shape.
== == ==