Translated from Russian - Source: http://bigpicture.ru/?p=63558
Apparently some of them are ex-employees of ARMSCOR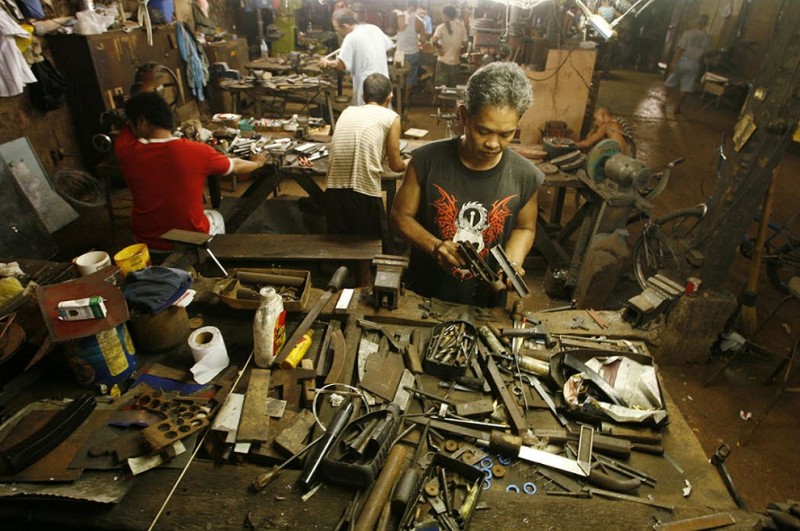 The Philippines is a place called "the city of weapons." For more than a century, the Dana make a living producing weapons. These people know how you can manually collect pistols, revolvers and machine guns. The authorities have created a cooperative, so as to legalize the production of weapons. But instead of making money by legal methods, the majority of cooperating with the local mafia.
(Total 27 photos)
Jose picks up a gun, looks through the scope. Thinks for a moment, and then invests in the form of vice, which at the moment is nothing more than a semblance of future gun slug. Jose Arneskaru will spend more than one day at work before this form finds its firepower. This beefy 33-year-old ex worker applies the full force working on the gate. "This is the hardest part," he said breathlessly. "It will take at least a week to finish the job." This is a crucial part of the weapon, so in the Jose will only use files.
We are located in the world's largest co-op weapons production, which is located in Danao on the island of Cebu in the heart of the Philippines. This organization is unique in its essence, it is here to produce weapons of 38 and 45 gauge, pump action shotguns and even some models of machines. 90% of all products are made by hand.
In this huge old building are only a few machines, the roof sprung a leak and does not protect from the rain, which is why the top hung a cloth to protect the wiring. In the darkened room is so much noise that it seems like you're in a mountain tunnel.
On the 2-core machines can run and modify their weapons about 30 workers. Using a drill to each item be engraved «WORLD» and serial number. There is another great machine, which is considered the most important in the work, it produces drums. "This is the most important tool," says June, watching his colleague ends his piece of work. "Thanks to him, we can do the job, which is very difficult to do manually." "We do not have a lot of tools," regretfully says working.
This facility each working independently creates weapons from beginning to end, and after the sale gets nearly full value on your hands. It is mostly made 38 weapons and 45 caliber, and pump action shotguns. Takes a week to make a .38, which can be sold for 30 euros on the production of .45 take twice more time, but its price is also increasing. Employees of the cooperative receive an average of 70 euros per month, which is the minimum wage in the Philippines. Nearly 100 weapons every month come out of these workshops, most of them bought their police and soldiers who were not issued weapons at work, and for whom this is the cheapest way to get it. Yet these weapons are in demand among the guards shops and banks.
Manufacture of weapons is considered old tradition in Danao. They say that even when the Spaniards were doing here arquebus. But the main production was formed in the early 20th century, when the Philippines was an American colony. During World War II, Americans enjoyed the skills of the Greeks to rework captured Japanese weapons under his caliber. It is since that time there being manual production of weapons.
As a result, in 1996 the authorities organized a cooperative legal weapons production. But, despite all the efforts of the authorities, most of the workers made weapons illegally, without being subject to the cooperative.
Find such illegal production is not difficult. In the city center you can find a small house Renato Gonzalez. All its production consists of simple vise and a set of tools. In his studio you can see the form for KG-9, light machine, similar to the U.S. Israeli production. Renata took 2 weeks to produce it for the work he received 100 euros. Their skills 52-year-old worker yi took over from his grandfather and father, who were also engaged in the manufacture of weapons. "I was 8 years old when I started to help them," says Renato. "I was returning from school and learned to work with a file. Now I'm doing this, so that my children had the opportunity to go to college. "
According to Nestor Sabaytona who until 2007 led cooperative in Danao illegally produce weapons, at least 5,000 people.
Of course, should be the person who would have directed these illegal workers. In this man's name is Dana «Rio Shark», he is one of the most experienced manufacturers of weapons. In his studio you can see the finished automatic rifle AR-15, which is very similar to the American M-16 rifle. This weapon is worth 500 euros booked Mayor large neighboring town. "This is the second time I get an order to produce such a thing," said Rio. His son added, "We've had a lot of orders shortly before the election. Many politicians like pistols or rifles like this. "
Local elections in the Philippines have fallen into disrepute. For example, in 2007 during the campaign were killed and 114 candidates of the party members. In addition, bank robbery is also often accompanied by killings. In May 2008, there was a loud robbery during which the offender shot 10 people. It is believed that in the Philippines in the back are more than a million firearms, while a third has no license.
Despite the similar situation in the country in all police stations Dana quietly. In 2007, only 2 people were arrested for the illegal production and 18 for illegal possession of weapons. "We know that there are several in illegal arms manufacturers," says Lieutenant dehinam Lacson, "but when we find them, we try to encourage them to join a cooperative, if they refuse - will be arrested."
Illegal business of producing weapons do not seem to disturb the peace of Dana, 120 000 inhabitants lead a normal life. So resident Dana humorously says, "If you hear gunshots in the streets of Dana - do not worry, it's just one of the masters in action check their new weapons."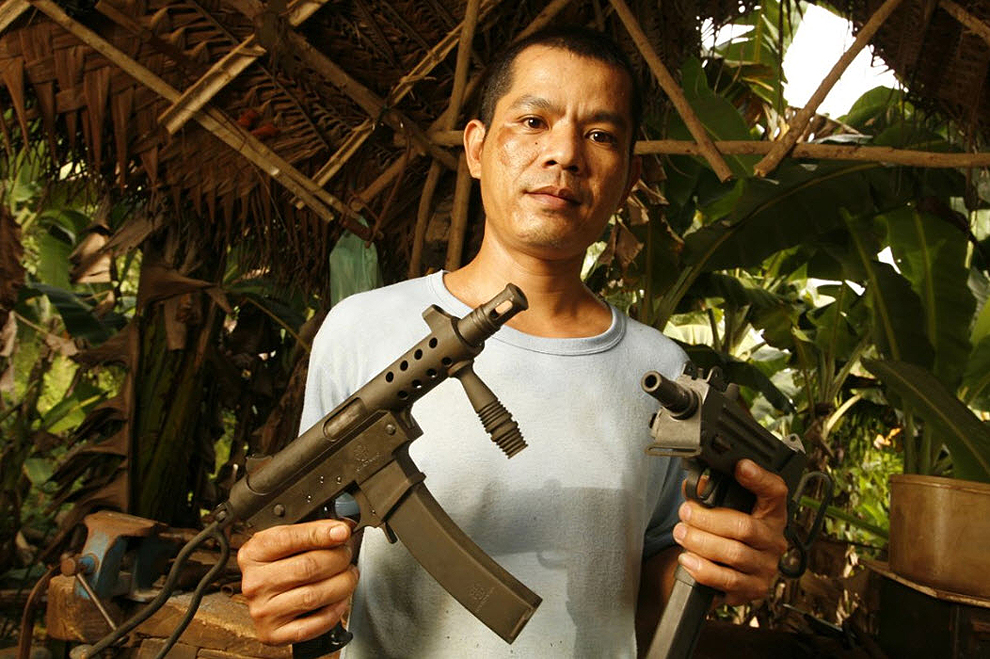 1. The most popular in the Philippines are sub-machine guns and Uzi Ingram, even despite the fact that they are banned. The photograph shows one of the leading specialists in the production of such weapons, Mr. Dante Ramoneda.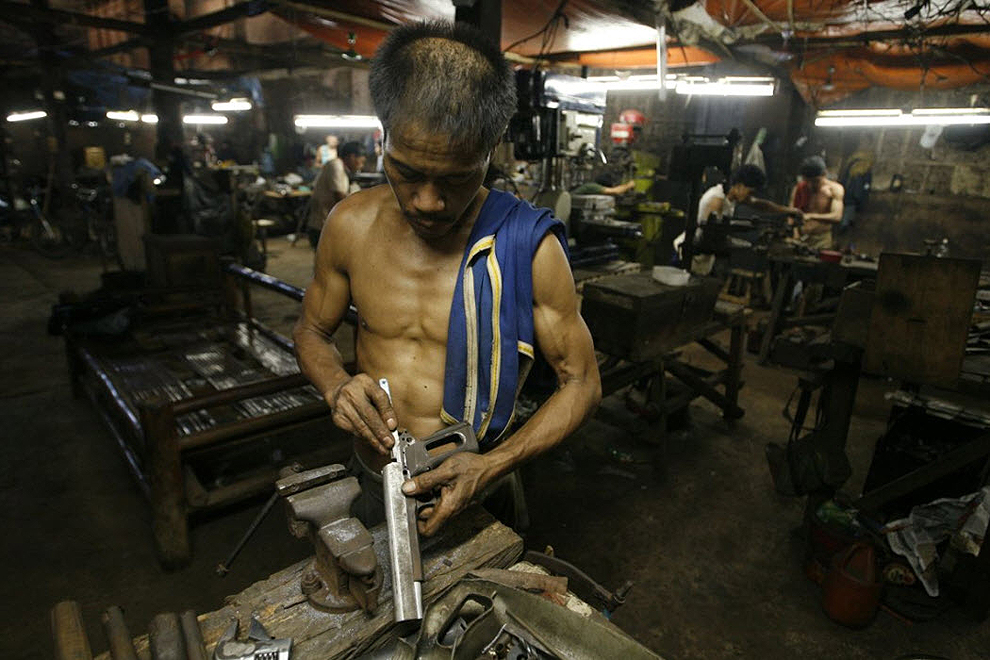 2. Work collects gun .45, very similar to the Beretta.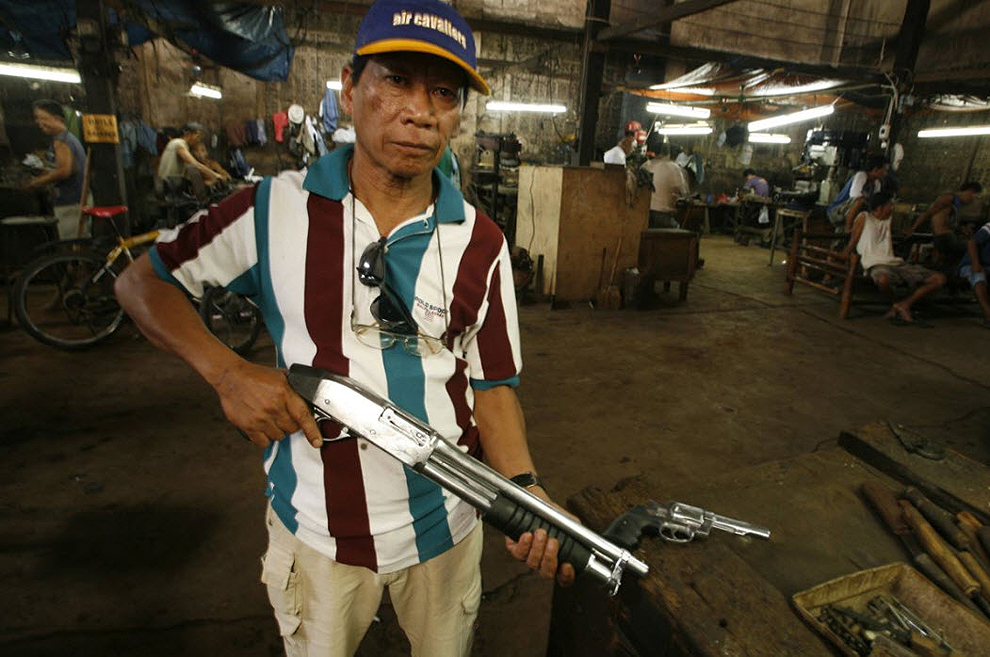 3. Mr. Dzhuntilla, manager of the cooperative, demonstrates the shotgun, which was produced at the plant.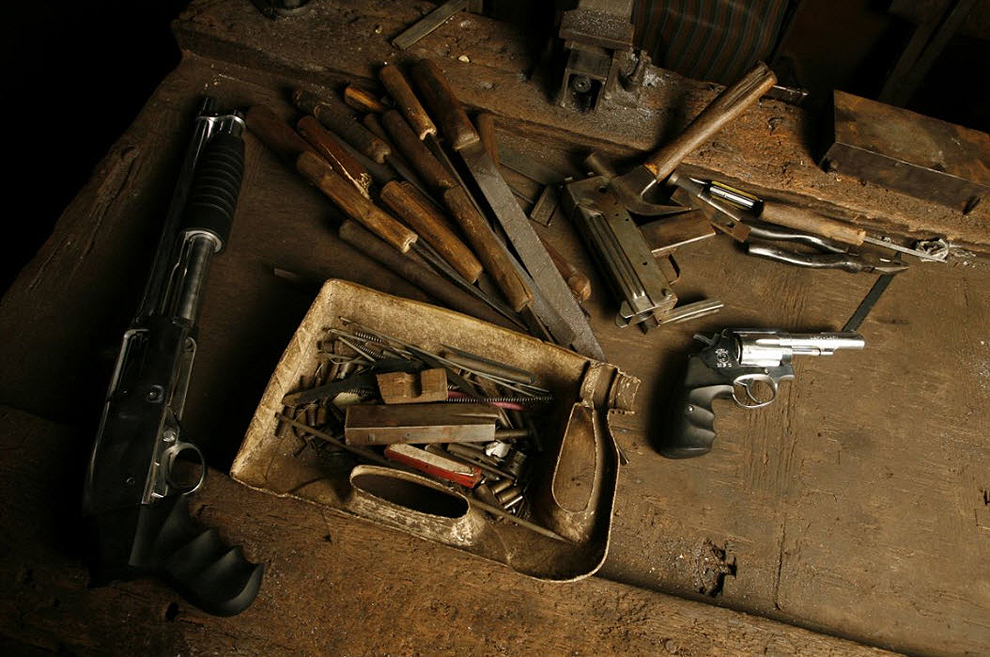 4. Tools and ready-made clothes, such as a revolver (right) and a shotgun (left).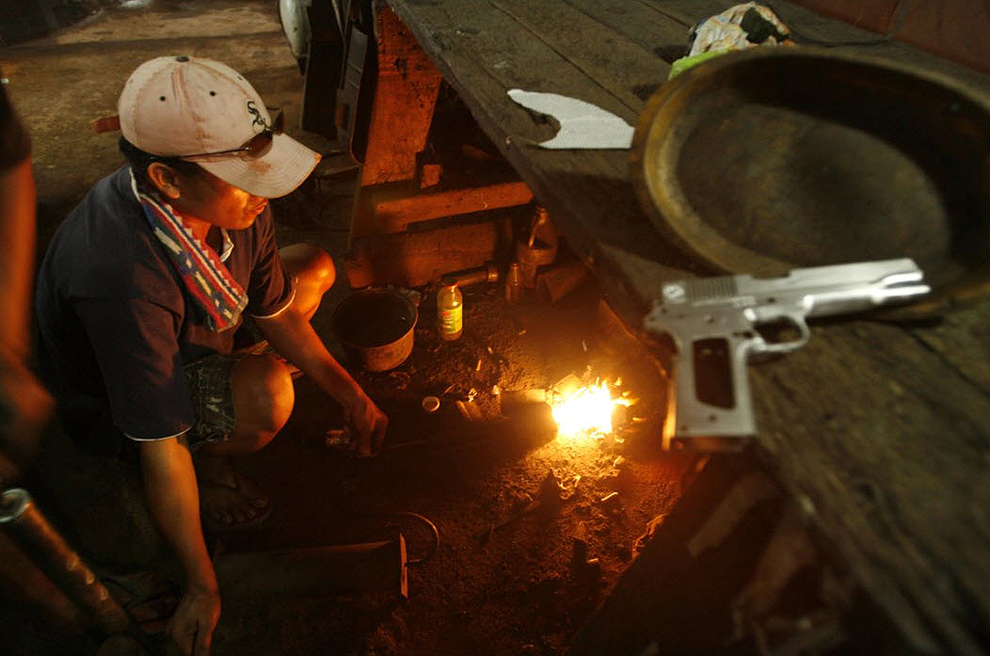 5. Work has been cooperative melting metal.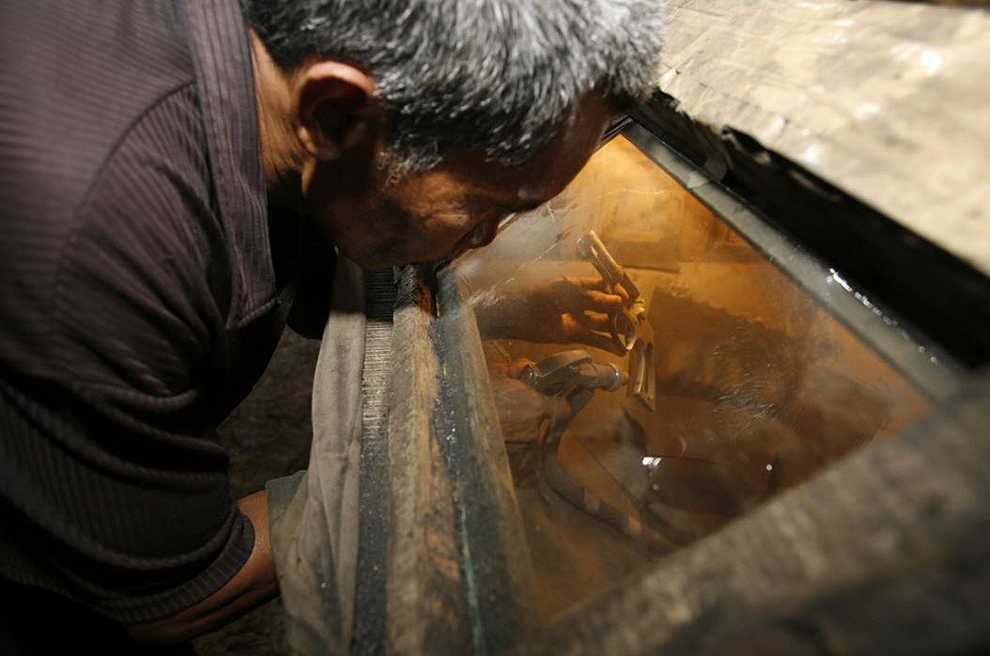 6. Worker cleans cooperative form.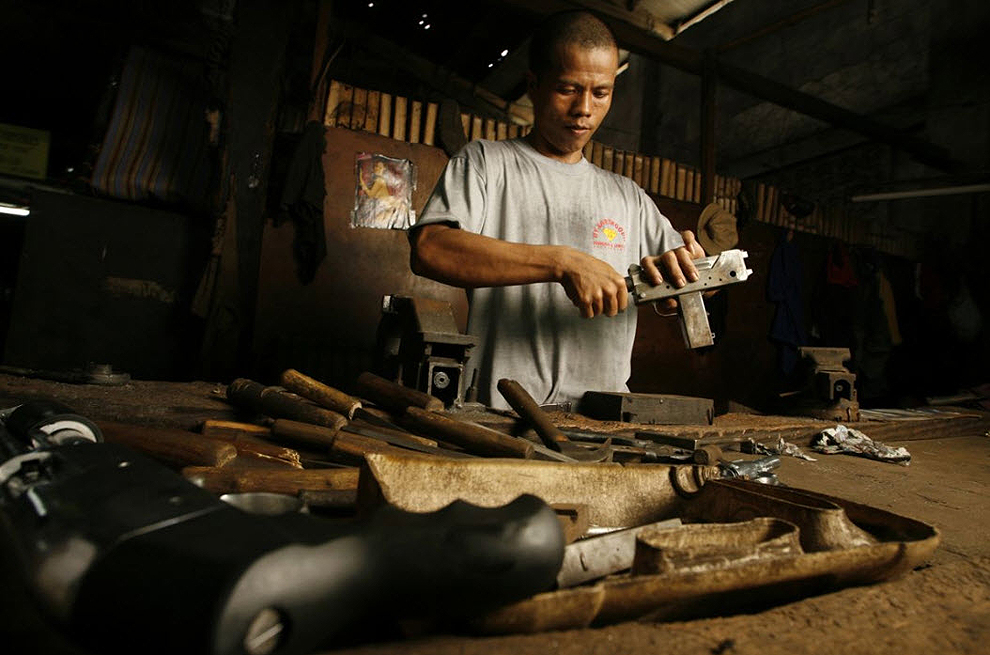 7. The authorities have created a cooperative, so as to legalize the production of weapons.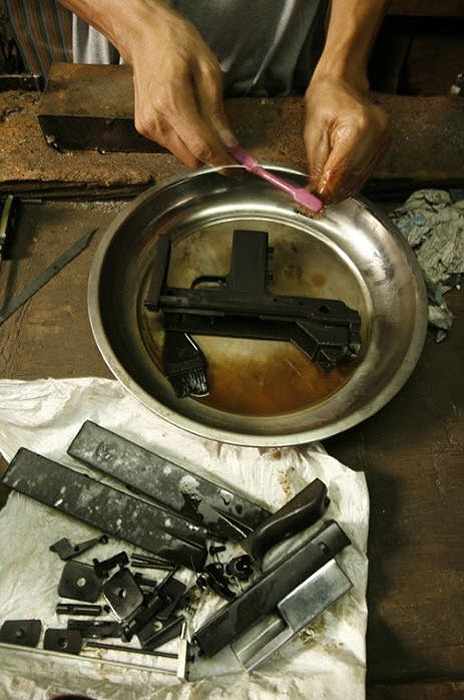 8. Cleaning parts weapons.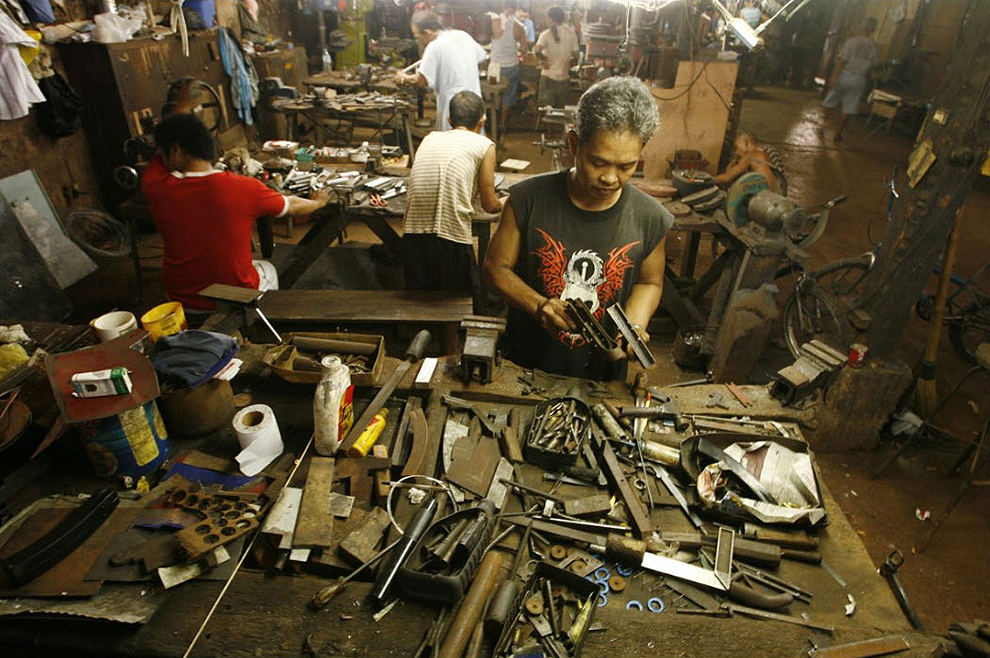 9. The decor inside the workshop.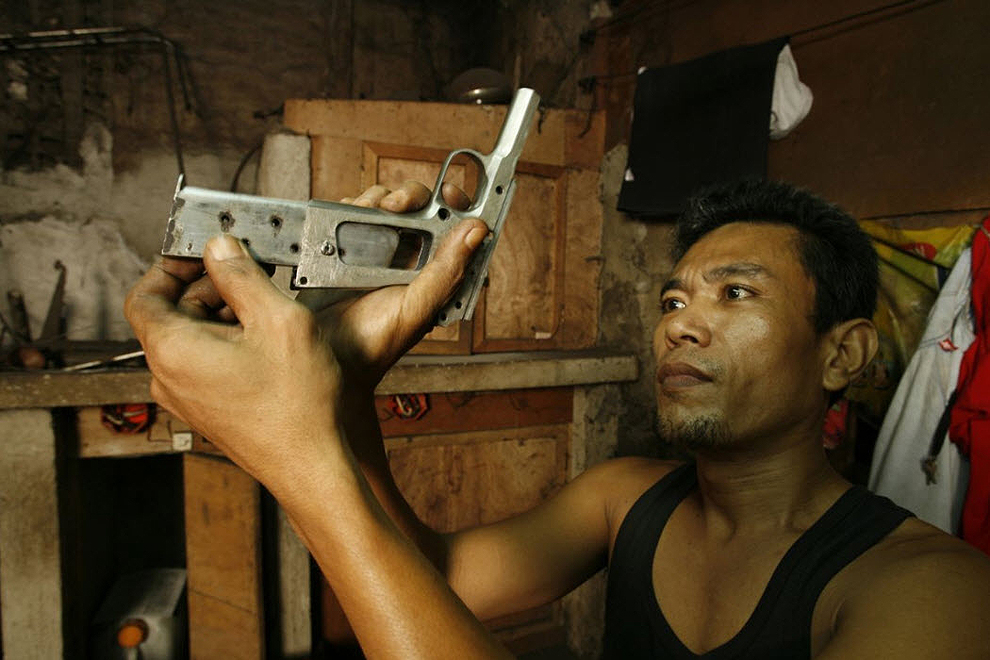 10. A worker inspects the form for its future weapons.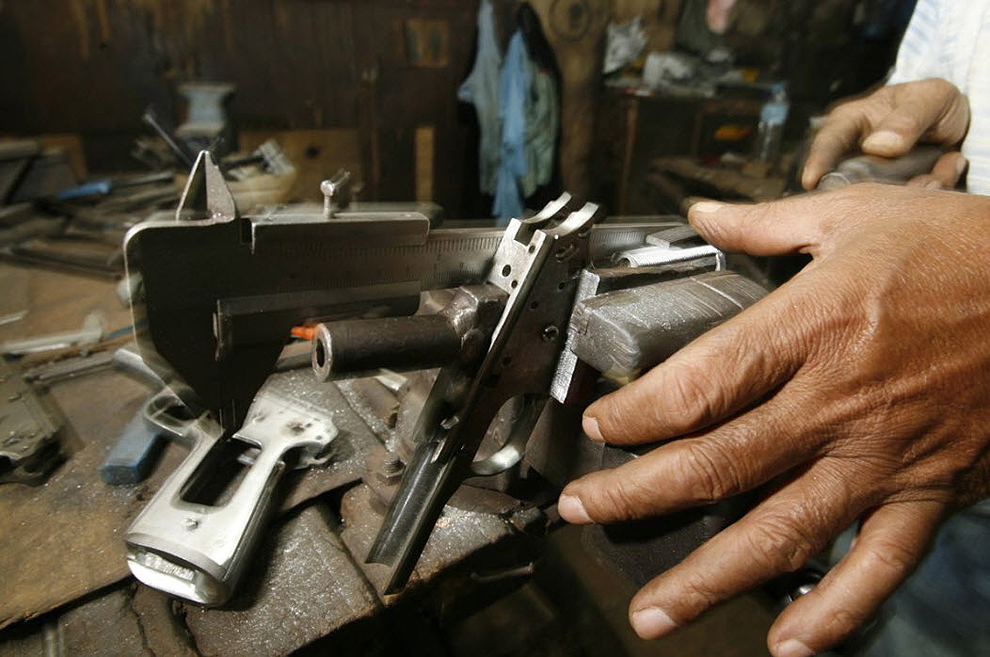 11. The process of production of weapons.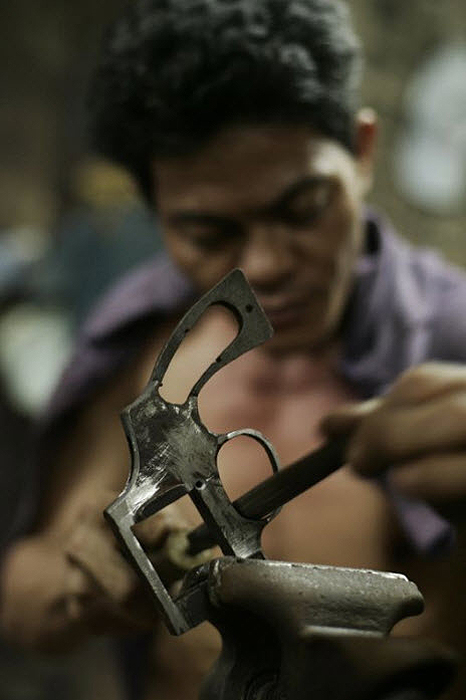 12.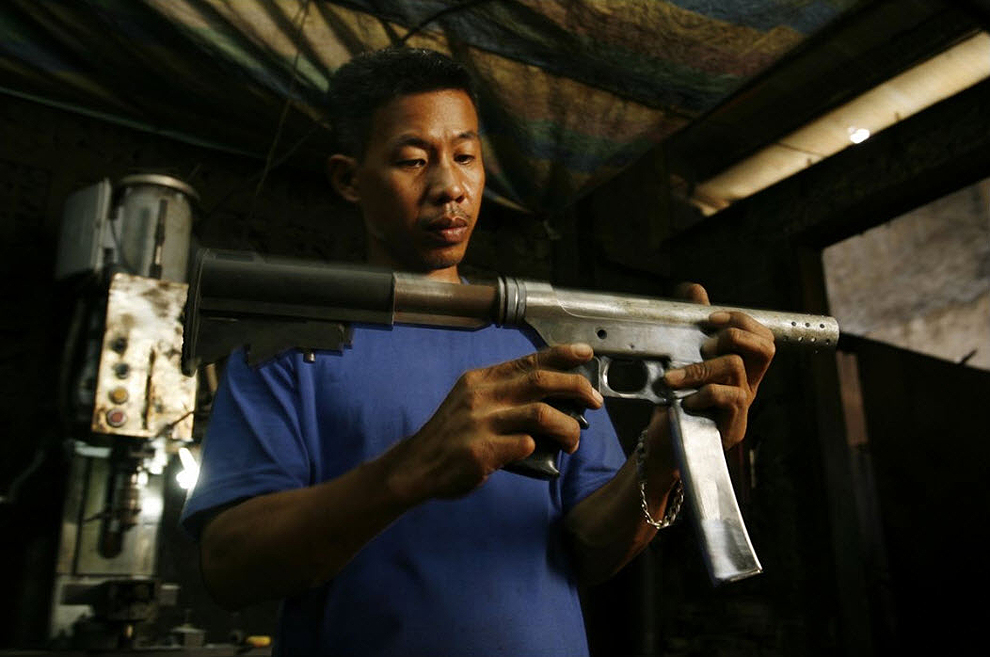 13. The manufacturing process of the machine gun.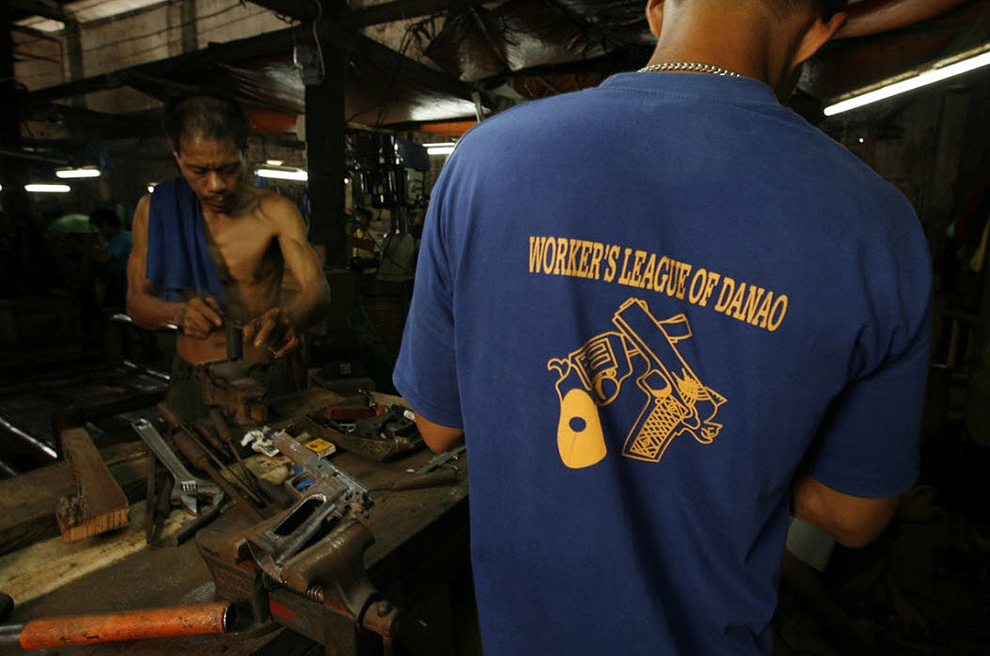 14.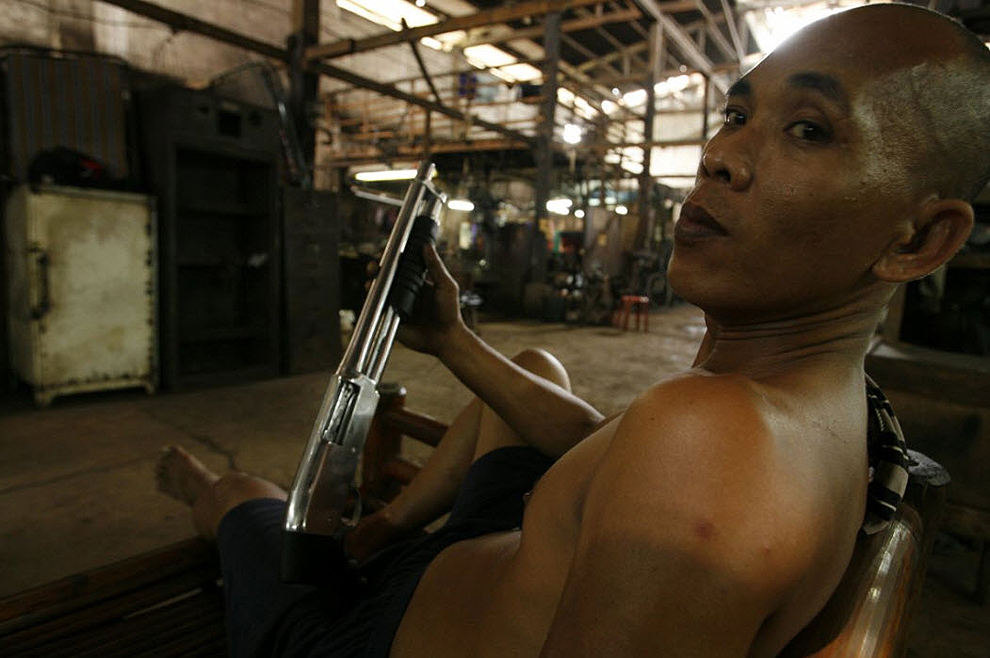 15. One of the workers acts as a security guard with a homemade shotgun.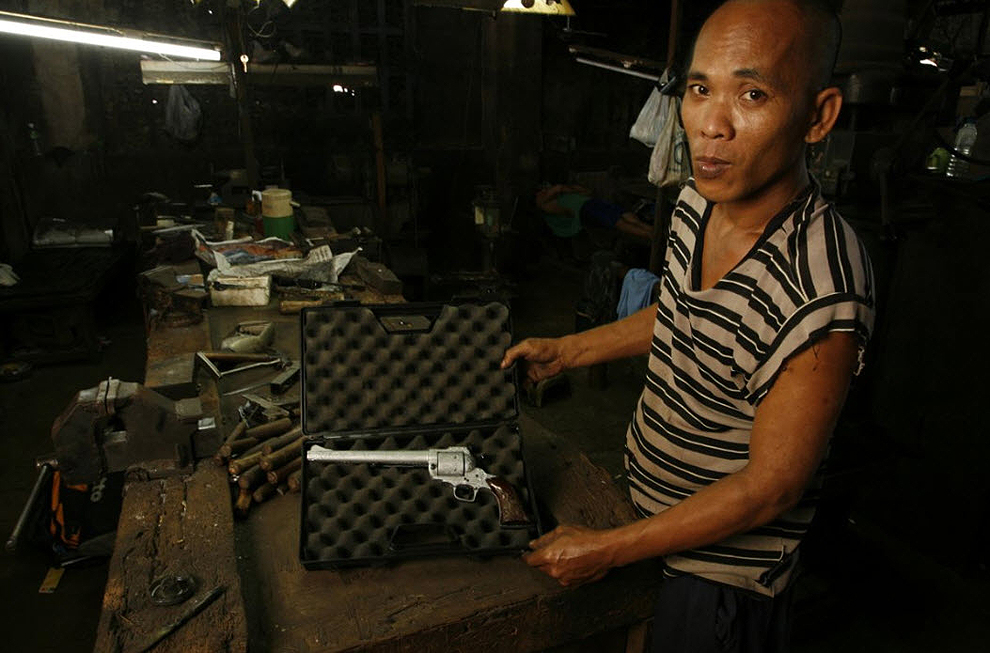 16. Work demonstrates the finished work - gun, very similar to the Magnum 357.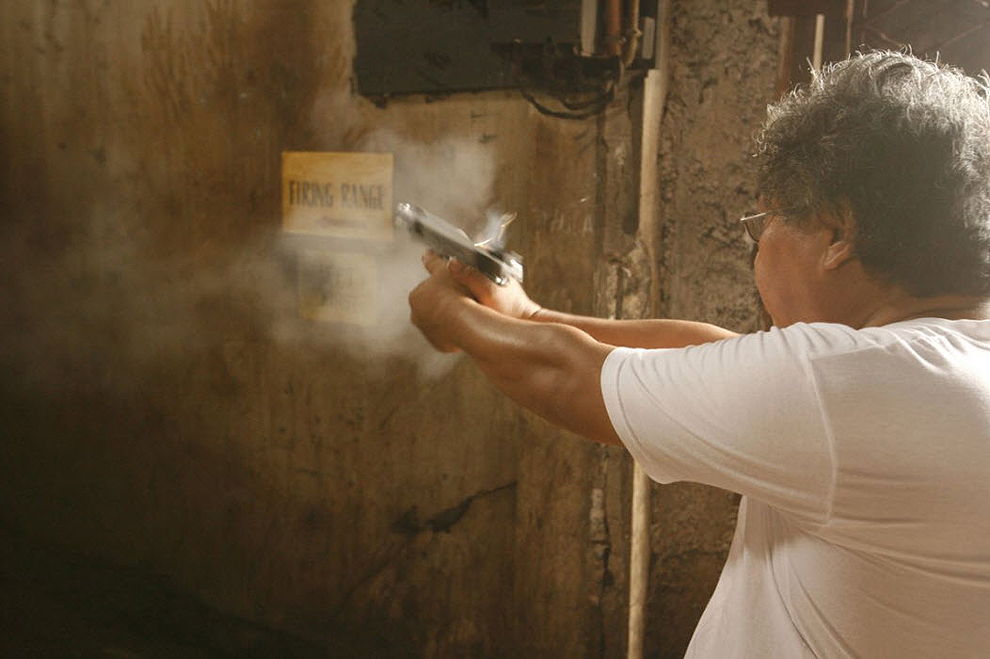 17. Checking new weapons.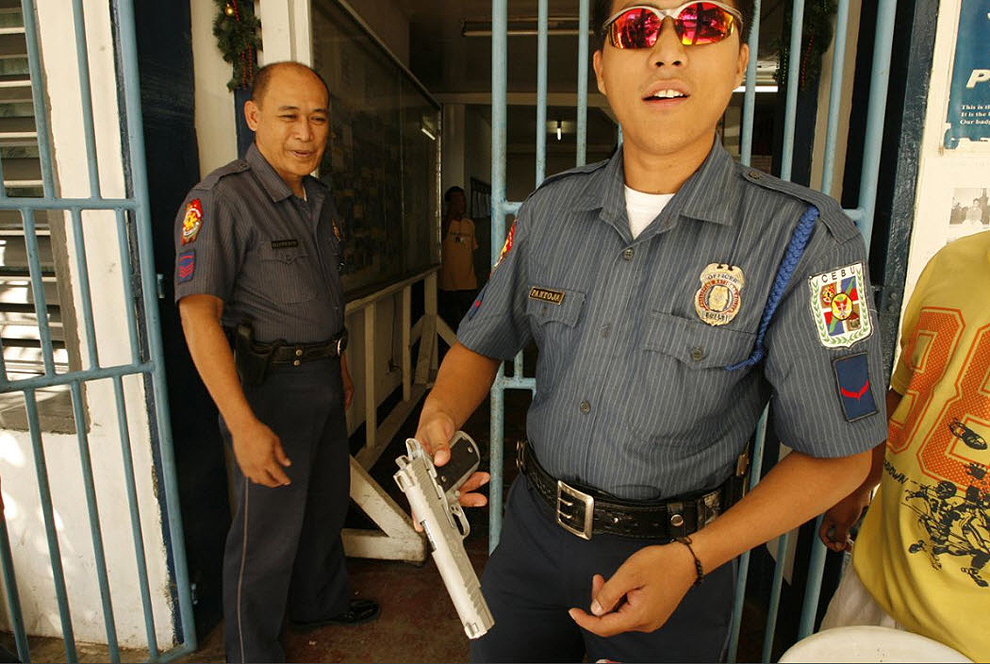 18. Danayskie police prefer pistols .45 production cooperative «WORLD».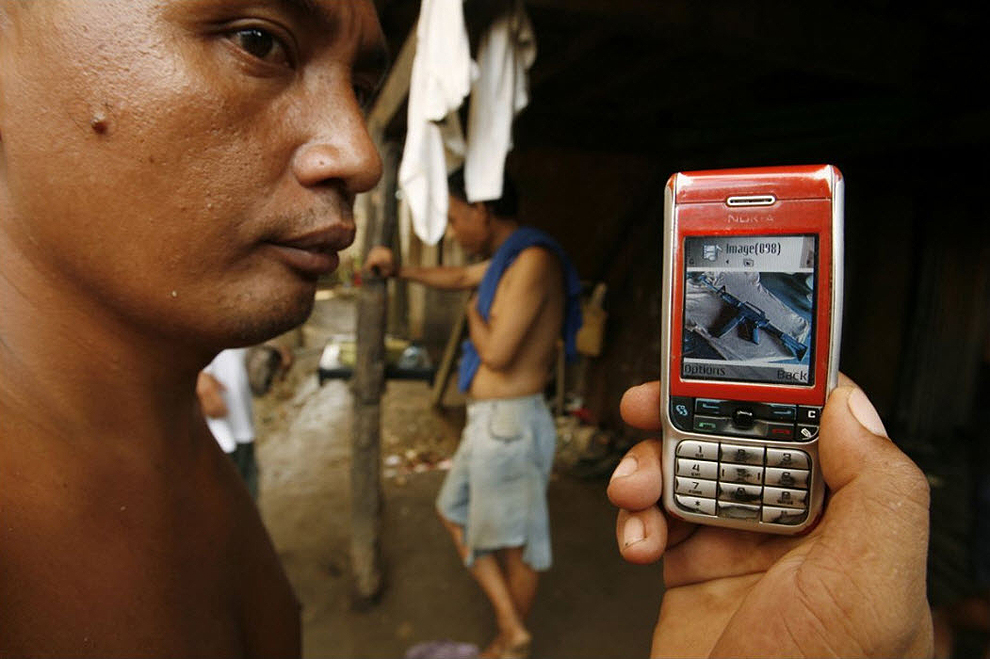 19. In the photograph, Mr. Rand, who sells weapons of its own production through the Internet, and mobile phone.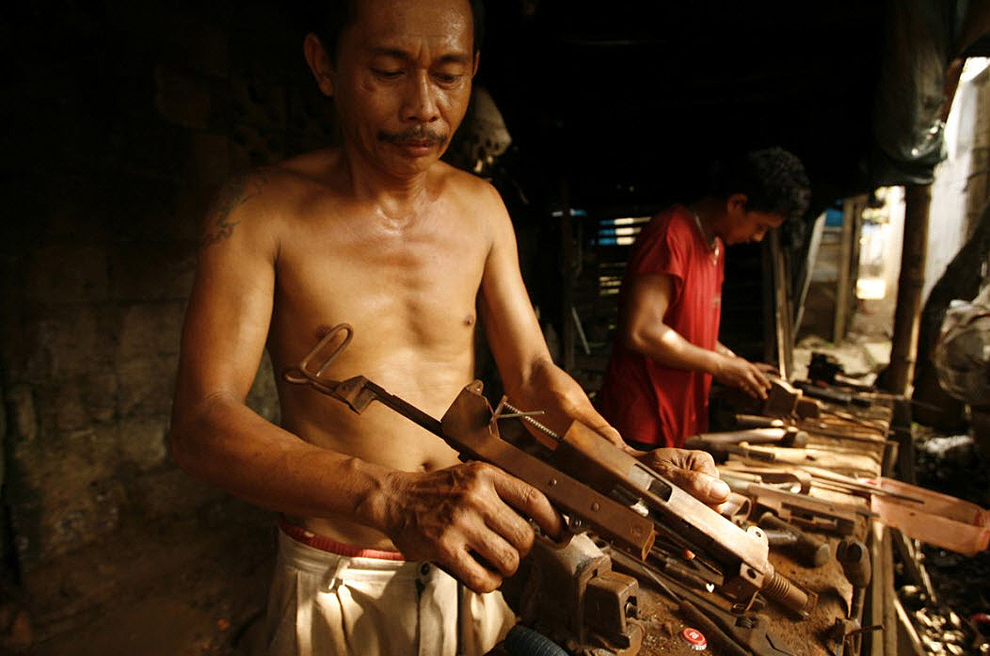 20. Mr. Battle has been producing machines, which is illegal in the Philippines.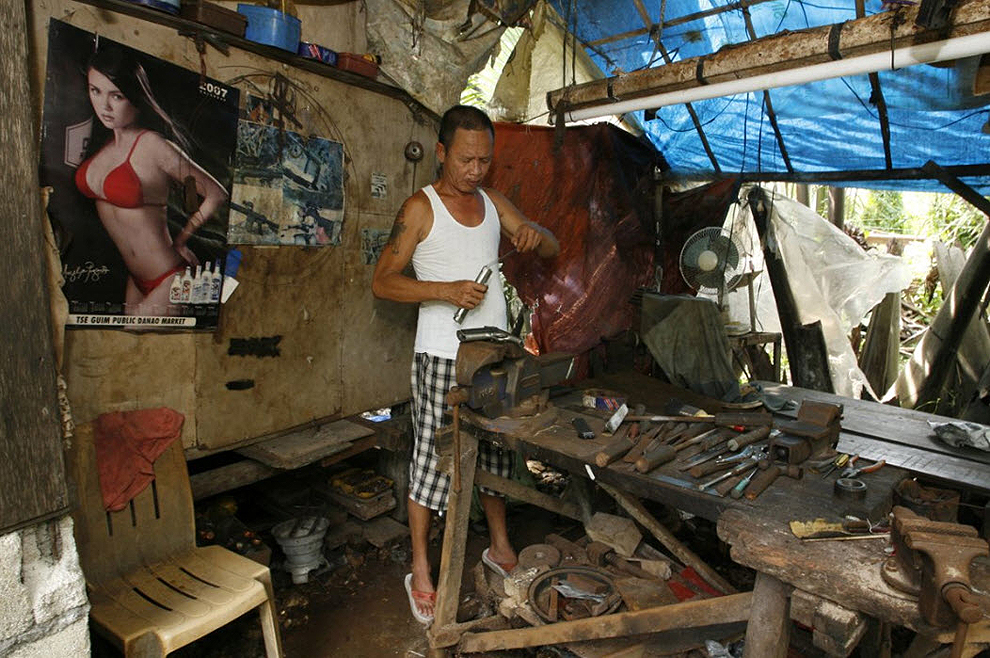 21. Mr. Roberto has been producing gun .45.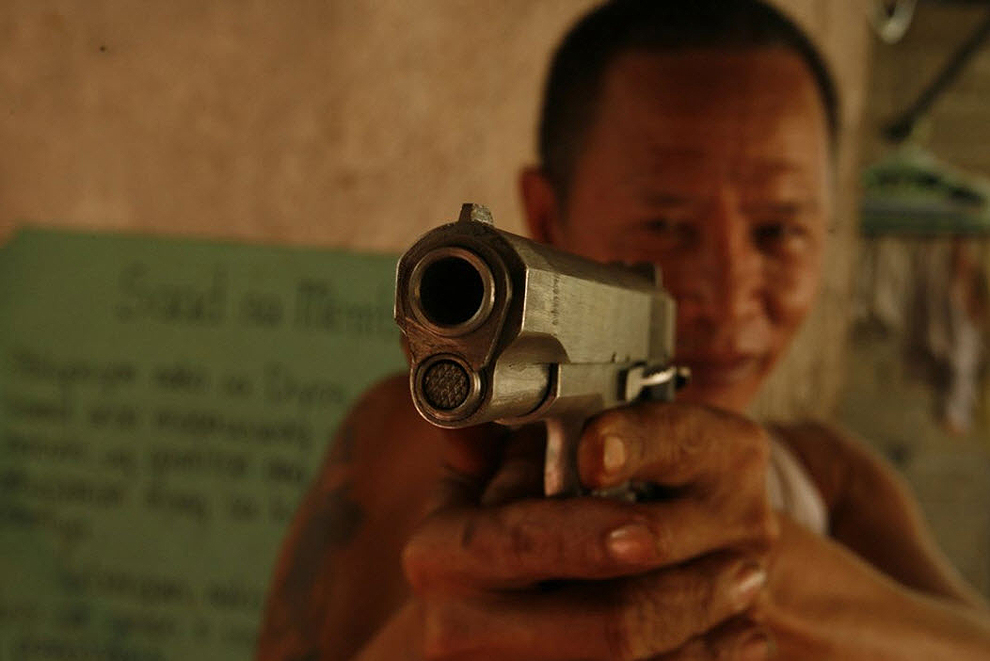 22. Mr. Roberto holds a pistol .45, very similar to the Beretta.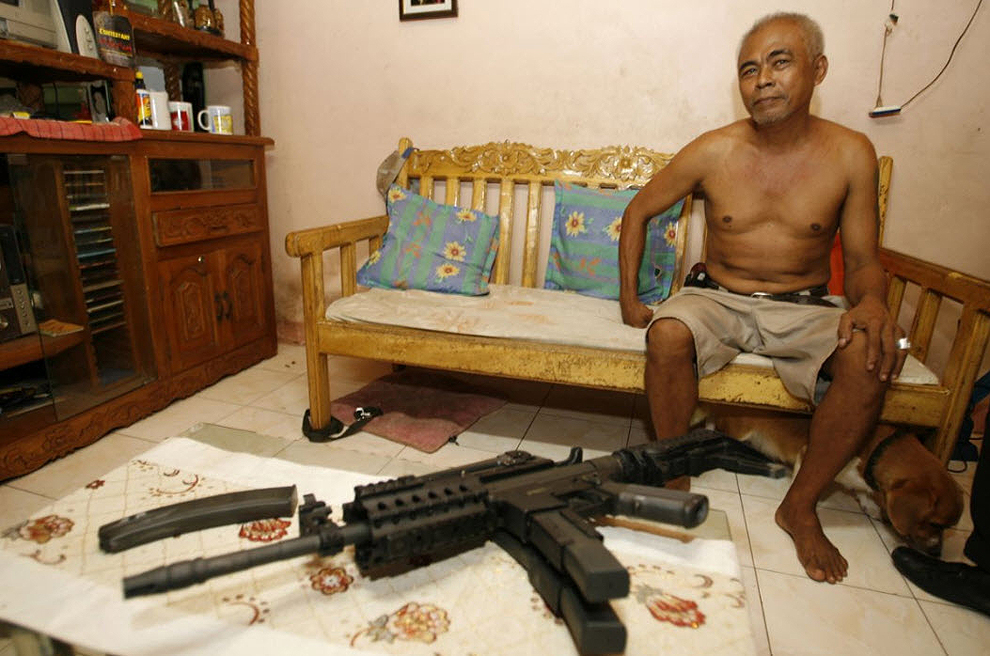 23. «Rio Shark» at home in front of his work - automatic rifle AR-15, which is very similar to the American M-16 rifle.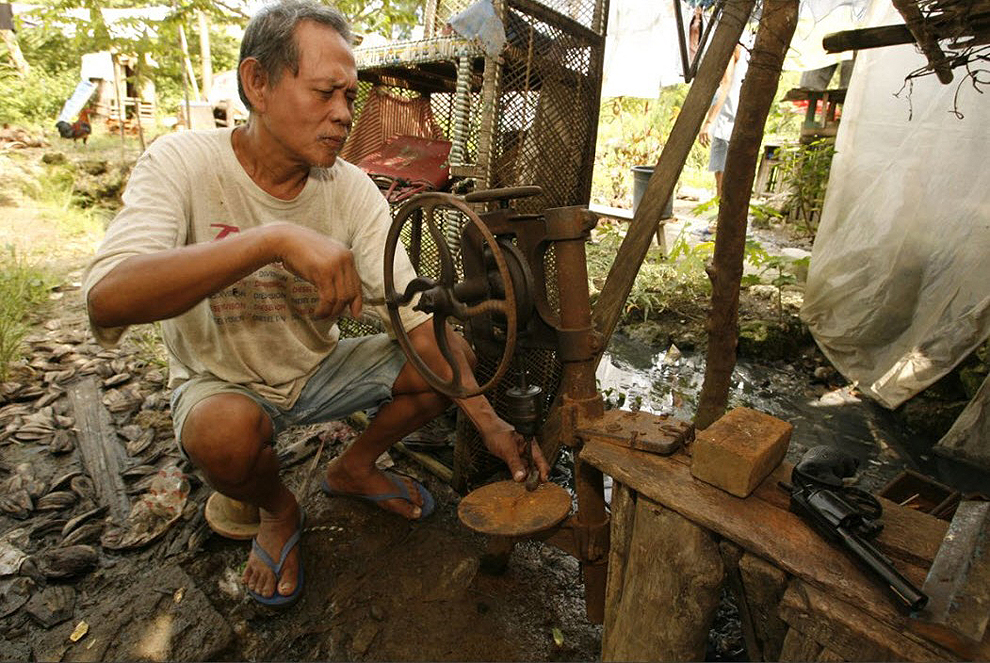 24. Mr. Nestor in his studio just created 357 Magnums for a security agency.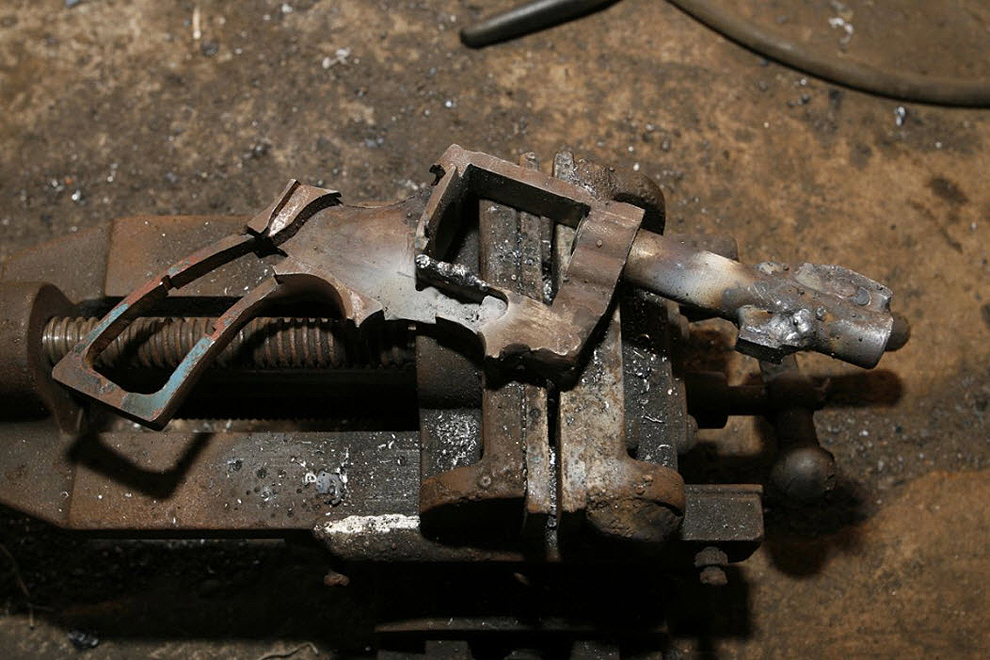 25.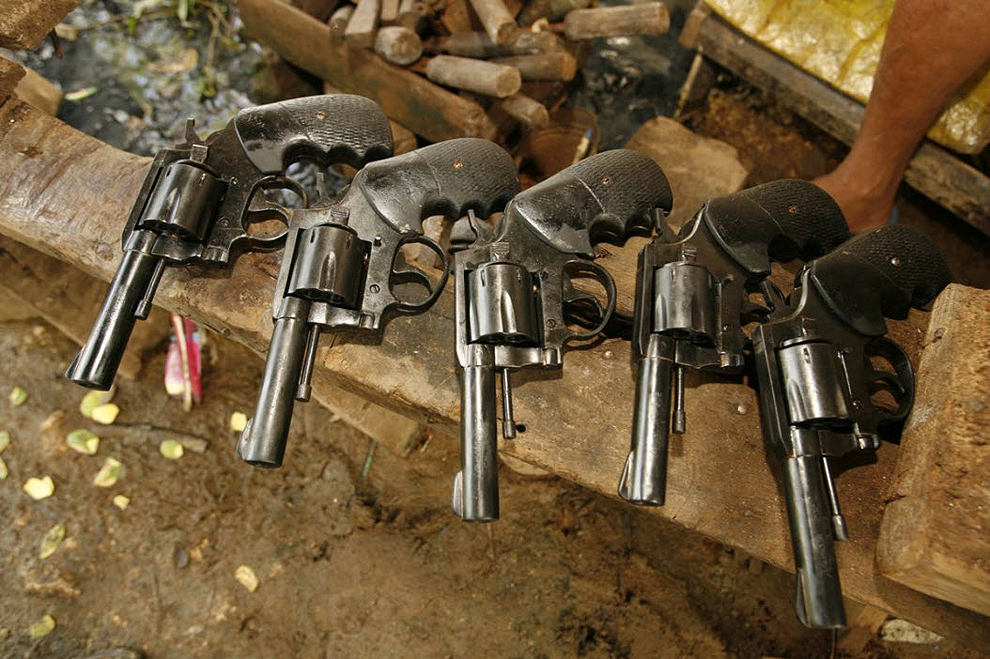 26.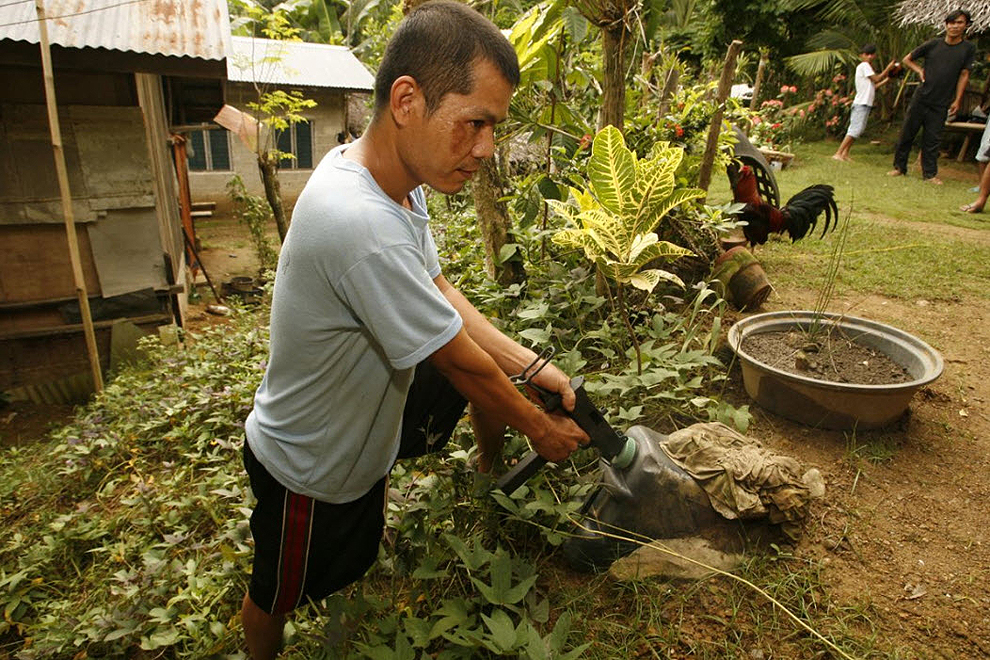 27. Mr. Dante Ramoneda testing a new Ingram in his studio.